The Best Wig Glue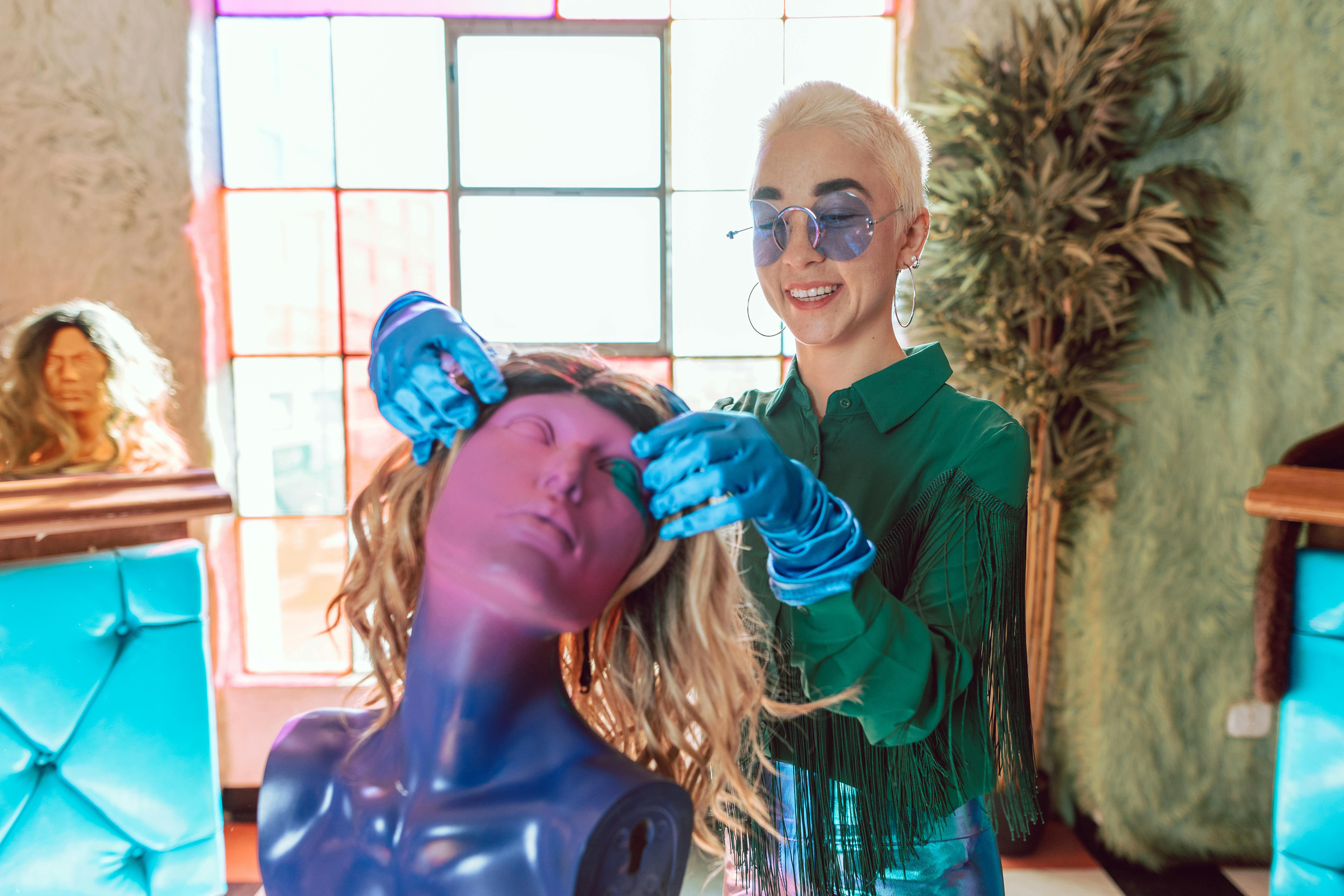 Wigs are a fabulous choice for anyone who wants to mix up their look without changing their natural hairstyle. They also come in handy for models, people with hair loss, and protective styles. Finding one you like is easy, especially with the available options. But what isn't easy is installing it to look natural. That's where specially formulated wig glues come in, and we have the low down on the best of the best. Check them out below.
Ghost Bond by Professional Hair Labs
Get the security you need with this high-quality glue.
If you're looking for a wig glue that has it all, look no further than Ghost Bond from Professional Hair Labs. It resists wind, water, sweat, and oil, helping you look your best no matter what adventures you go on. Even with all of that strength, the formula is gentle and completely invisible once it dries down for a comfortable, clean finish.
Pros:
We appreciate that this formula dries fast and lasts for weeks with proper care.
This glue is an excellent choice for daily gym-goers and runners, and it stays put through all of your activities.
A little goes a long way, so you won't have to repurchase too often.
Cons:
You need to follow the directions very closely, or it isn't as effective.
All Mighty Bond Wig Glue by Kiss 
Instant bonding prevents lifting and leaves a seamless finish.
Lace front wigs are beautiful and give you a lovely natural finish, but it is a bit harder to find glue that keeps it laying flat without showing. Kiss' All Mighty Bond wig glue uses a powerful formula that dries in an instant without showing any white residue. Once it's completely done drying, your wig will stay put for weeks. Lifting and curling will be a thing of the past.
Pros:
We were happy to learn that the level of hold is fantastic, even on the sides, and it helps you create a very natural hairline.
Removing it from your wig between installs is a breeze, and you don't have to worry about residue or rips.
You don't have to use a blow dryer or anything else to dry it, and it dries in a few seconds all by itself, even if you use a couple of layers.
Cons:
This glue isn't completely waterproof, so we recommend wrapping your hair for swimming.
The Hair Diagram by Bold Hold Active
This pick is the perfect choice for active lifestyles.
It can be challenging to find high-quality wig glue, especially if you're an avid swimmer or spend a ton of time at the gym. It's challenging but not impossible, especially if you try out Bold Hold Active's wig glue. The Hair Diagram isn't just waterproof, though. It's also latex-free, odorless, and made to be gentle on your skin, making it ideal for those of us with sensitive skin.
Pros:
It stays securely in place through all kinds of activity, including dancing, workouts, and running.
Your wig won't lift at the edges or pull away for up to three weeks.
We love that it leaves a natural-looking finish, even at the edges where other glues tend to show.
Cons:
It can be tough to remove without rubbing alcohol.
30 Second Bonding Glue by SalonPro
Prevent skin issues while getting a fast finish when you choose this professional option.
Life is busy, and spending hours on our hair just doesn't make sense. That's why SalonPro's 30 Second Bonding Glue is one of our favorite options. It dries down almost instantly and provides maximum hold. Meanwhile, it includes additional ingredients that prevent fungal growth, which means you don't need to deal with the itchiness associated with wigs after a few days of wear.
Pros:
The hold is one of the most secure you can get, and it works for wigs, extensions, eyelashes, and other hair adhesive applications.
It isn't too runny, and it doesn't make a huge mess when you're using it.
We like that the nozzle gives you perfect control over the placement of the glue.
Cons:
Although the strength of this glue is something we love, it does make it much harder to remove.
Our Tips and Tricks
Wigs are one of our favorite ways to try out new styles and adjust our appearance without permanently altering our natural hair. However, they can be pricey, and installing them incorrectly can lead to hair and scalp damage. To avoid that, we recommend following the directions provided by the company for your specific glue. In general, we find that using two coats of glue before laying down the edges of your wig can lead to more secure results. Using a finishing spray to set your style is also a good idea. At night, wrapping your head with a scarf can prevent lifting and result in longer wear.
Frequently Asked Questions
What is a lace front wig?
Lace front wigs are made by individually tying each strand of hair to a lacy material around the hairline of the wig itself. This results in a much more natural hairline than traditional wigs offer, and they often last longer because they're a bit more secure.
What is lifting, and why does it matter?
Lifting is when the very edges of your wig start to pull away from the skin. Once a wig starts lifting, you lose the natural hairline look you're going for, and the rest of the wig pulls off and away much more quickly. That can limit the life of your wig and lead to damage.
Why Trust Us
Since 2007, TotalBeauty has been committed to helping millions of people find the right makeup, skincare, and haircare products for their needs. Our experts know what works best for every face shape, skin type, hair type, and more. They are here to share that knowledge with everyone looking to upgrade their beauty routines or try something new.