5 Best Shampoos for Thinning Hair And Hair Loss for 2020 – Shampoo for Thinning Hair And Hair Loss Reviews – Total Beauty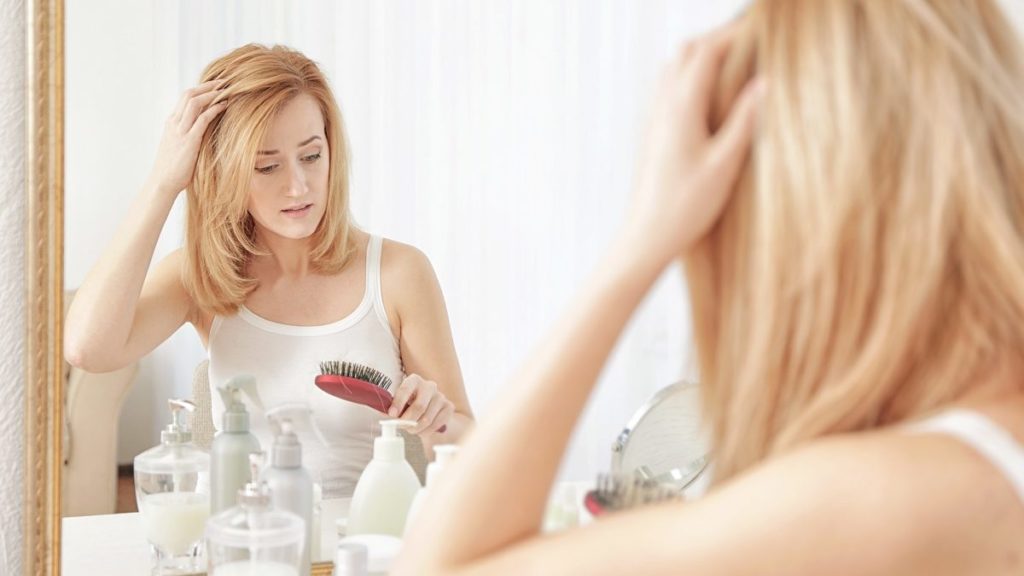 As we age, our hair can become thinner, more brittle, or start to fall out more easily. Thinning hair can cause emotional upset for both men and women, and many of us will choose to look for a shampoo that will slow or reverse the signs of thinning hair and help to nourish the scalp, follicles, and hair strands. With a range of shampoo products available, it can be difficult to find the right product for your hair and scalp type. Our guide to the best shampoos for thinning hair will help you find the right product so that you can start treating the cause of hair loss or breakages.
Best Choice
For both men and women, Pura D'Or shampoo promotes thicker, fuller hair by stimulating hair follicles and circulation. It is vegan, cruelty-free and made in an environmentally responsible way.
Pros:
Pura D'Or is a leader in hair thinning therapy. It is proven to reduce hair thinning and promotes hair strength and thickness. Volume is increased, and hair breakages are reduced. It contains essential vitamins to hydrate the scalp and reduce brittle strands. The scalp is cleansed improving overall hair health. The formula contains over seventeen DHT herbal blends and is packed with powerful biotin, nettle extract, pumpkin seed, and black cumin seed oil. It is gluten-free and contains no parabens.
Cons:
This shampoo can leave hair feeling oily after use, which can make styling difficult. Oily hair is more likely to be an issue if you have hair that has a natural tendency to be oilier anyway.
Best for Natural Hair
Nioxin hair thickening treatment is suitable for natural hair that is thinning. It is a professional hair and scalp cleanser shampoo, which results in stronger hair that is thicker and appears fuller.
Pros:
Nioxin System 2 cleanser shampoo is designed for natural hair experiencing progressed thinning. It works by cleansing both the scalp and hair and removes sebum, an oily substance released onto the scalp, as it washes. It also contains Activ-Renewal technology to remove fatty acids and environmental debris from the scalp and hair. It strengthens the hair and amplifies hair structure to provide thicker, fuller-looking hair. It is suitable for everyday use and can be used with other Nioxin products.
Cons:
This shampoo may be more effective at preventing hair loss than stimulating new growth. If you are looking for a shampoo that stimulates growth as well as preventing loss, you may prefer to try a different product.
Best for Colored Hair
Biotin keratin shampoo promotes normal growth of hair as vitamin B7 (biotin) aids production of keratin, a key substance in hair. It is suitable for colored hair and those with a sensitive scalp.

Pros:
Using a blend of jojoba, tea tree, zinc and keratin, Biotin keratin shampoo by Honeydew nourishes dry scalps and promotes circulation to the roots for thicker, fuller hair. Biotin, or vitamin B7, promotes thicker hair by strengthening weak follicles and strands. The shampoo unclogs pores and removes DHT for hair and scalp health and moisturizes the scalp to reduce signs of dandruff. The formula is sulfate-free, contains natural ingredients, and is made in a cruelty-free and eco-friendly manner.
Cons:
The smell of this shampoo may be off-putting to some. Although it contains a blend of natural ingredients, some may notice a chemical scent during use. If you are sensitive to strong smells, you may prefer to choose a different product.
Best for Men
Using natural ingredients, Cidbest Mroobest shampoo is an effective solution for men's hair loss. It promotes hair growth and prevents hair loss for thicker hair that looks healthy and feels soft.
Pros:
Cidbest Mroobest anti-hair loss shampoo is an effective solution for thinning hair and breakages. It uses all-natural herbal ingredients for gentle but powerful and effective hair growth. It contains old ginger and Panax ginseng extract. Hair is moisturized and made both thicker and stronger, and the hair root is strengthened. DHT is blocked to naturally prevent hair loss, making it an ideal choice for men. It is suitable for sensitive scalps. Hair is left feeling softer and silkier, but with added volume.
Cons:
The shampoo is sold in a relatively small bottle, which may make it seem like an expensive choice. If you prefer to buy a larger bottle of shampoo, this product may not be the right product for you. As only a small amount of Cidbest Mroobest shampoo is required for a good lather at each wash, purchasing a smaller bottle may not be an issue.
Best Value
Biotin shampoo is a topical treatment containing biotin, vitamins, and nutrient-rich botanicals to thicken hair and give a fuller appearance. It is sulfate- and paraben-free to avoid scalp dryness.
Pros:
Biotin shampoo for men and women is a thickening shampoo for men and women. It is suitable for colored or damaged hair and oily scalps. This natural shampoo contains tea tree to treat dandruff and rosemary essential oil to promote hair growth. Infused with biotin (vitamin B7) and vitamin B5, hair appears thicker and healthier. DHT is removed from the scalp, and oily hair is detoxed to give it a thicker appearance. Argan oil, evening primrose, and other botanicals nourish the scalp and hair.
Cons:
Hair can be left feeling difficult to brush and more tangled than usual after using this shampoo. If you have a sensitive scalp that makes brushing your hair painful or difficult, you may prefer to try a different product.
What Really Matters
Thick Appearance
If you have noticed that your hair is thinning, you want to be sure you're purchasing a product that works. Although the shampoos for thinning hair may work in different ways, the overall result should be hair that looks healthier, thicker, and fuller. The mode of action you desire in a shampoo may depend on the cause of your hair thinning. If you have hair that is rapidly falling out, a shampoo that works by nourishing the root or removing DHT may be desirable. If you are suffering from split ends or hair that breaks easily, a shampoo that promotes keratin formation may be appropriate. The most important consideration is how you can best support your hair to be thicker and healthier, with enhanced scalp health, and this may help to influence your choice of product.
No Side Effects
As with most beauty or cosmetic products, you will want to select a product that targets your areas of concern without any irritating or harmful side effects. Some shampoos are designed for oily hair but can be drying to the scalp if you have hair that is normal or dry. This can leave itchy skin that flakes and can even lead to dandruff. Conversely, some shampoos nourish the scalp and hair with a built-in moisturizer, but this can make hair that is naturally oily feel heavy or cause your scalp to feel greasy. Finding a shampoo for your personal hair type will help to promote hair health without any unwanted repercussions for your hair or scalp.
Cleansing Properties
As with all shampoos, you want a product that effectively washes your hair, removing dead skin, excess oils and environmental debris such as dust or dirt. A shampoo that cleanses the scalp will help to exfoliate the pores, removing sebum and leaving the scalp feeling clearer. Some shampoos also remove or block DHT (a form of testosterone). DHT can be related to premature hair loss, and so blocking this hormone can help to slow any hair loss you might be experiencing. Cleansing the scalp and hair roots can help to strengthen hair and amplify its structure, leading to hair that appears thicker.
What's in Right Now?
Some hair thinning shampoos are making use of vitamins that promote the production of keratin. Keratin is a key ingredient in hair, and so helping the body to produce more can lead to improved health of your hair. Shampoos that work to amplify the structure of the hair, strengthen the root or restore nutrients within the strands are popular for tackling the causes of premature or unwanted hair thinning.
As with many skin and beauty products, many of us are turning to products that are more environmentally friendly. This also extends to products being created and tested in a manner that is cruelty-free, and in some cases being certified vegan. Shampoos for hair thinning are no exception, and a number of products are available that fit these criteria. Many shampoos contain naturally occurring ingredients, botanicals, and essential oils to support and promote healthy hair without the use of harsh chemicals.
Prices
Expensive
$30-$42 buys a cleansing shampoo that uses Activ-Renewal technology to remove sebum and environmental debris from the scalp and hair to provide thicker, fuller-looking hair.
Mid-Range
$18.99-$29.99 for shampoos containing natural or botanical ingredients that strengthen individual strands and promote thicker hair.
Cheap
$4-$9.95 gets shampoos that promote hair growth and strengthening of the strands with the ingredient biotin (vitamin B7).
FAQs
Can men and women use the same hair thinning shampoo?
Although some shampoos are developed specifically with men's or women's hair in mind, some products are suitable for both sexes. Look for a product that offers this, but also be mindful of choosing a shampoo that will suit both of your hair types. If you have dry or oily hair, a product that suits you may not suit your partner. Also, check the way in which the shampoo works to treat thinning hair to be sure that the method of action of a particular shampoo will be suitable for both of you.
Do thinning shampoos smell bad?
Although some fragrance-free shampoos for thinning hair are available, you could also consider a shampoo that contains a gentle blend of botanical or essential oil extracts. These ingredients may help to give a light scent that is natural rather than chemical and may be more to your taste. Check the ingredients list for natural ingredients, which could include tea tree oil or coconut, as this may help you to determine whether you are likely to enjoy the scent of a particular shampoo.
Can I buy shampoo for thinning hair in travel-sized bottles?
Smaller bottles of shampoo for hair thinning are available. Often, a smaller amount of the shampoo is required to get a good lather, meaning that despite the small product size it still lasts for a long time. It is also worth noting that a specialist shampoo designed for daily use will replace your usual shampoo, so you will not need to have two bottles of shampoo in your shower at one time.
Is shampoo for thinning hair only suitable for the elderly?
Shampoo for thinning hair is suitable for all adults noticing that their hair appears thinner or is falling out more rapidly. Age is often not relevant, as the shampoo may work on the hair, scalp, and root to slow down hair loss and make hair healthier, thicker, and appear fuller. As we can be affected by thinning hair at all stages of life, there is no reason why those who are younger cannot use this type of shampoo. Hair thinning shampoos should not, however, be used on children.
Do I need to use a conditioner in addition to a shampoo for thinning hair?
Many products state that the shampoo is sufficient alone for good hair health. However, if you have hair that is prone to becoming tangled, or hair that feels very dry, you may wish to use a conditioner in addition. Conditioners for thinning hair are available to buy, and many brands that produce shampoo for thinning hair have also developed a corresponding conditioner.
Why Trust Us
Since 2007, TotalBeauty has been committed to helping millions of people find the right makeup, skincare, and haircare products for their needs. Our experts know what works best for every face shape, skin type, hair type, and more. They are here to share that knowledge with everyone looking to upgrade their beauty routines or try something new.