5 Best Micellar Waters for 2020 – Micellar Water Reviews – Total Beauty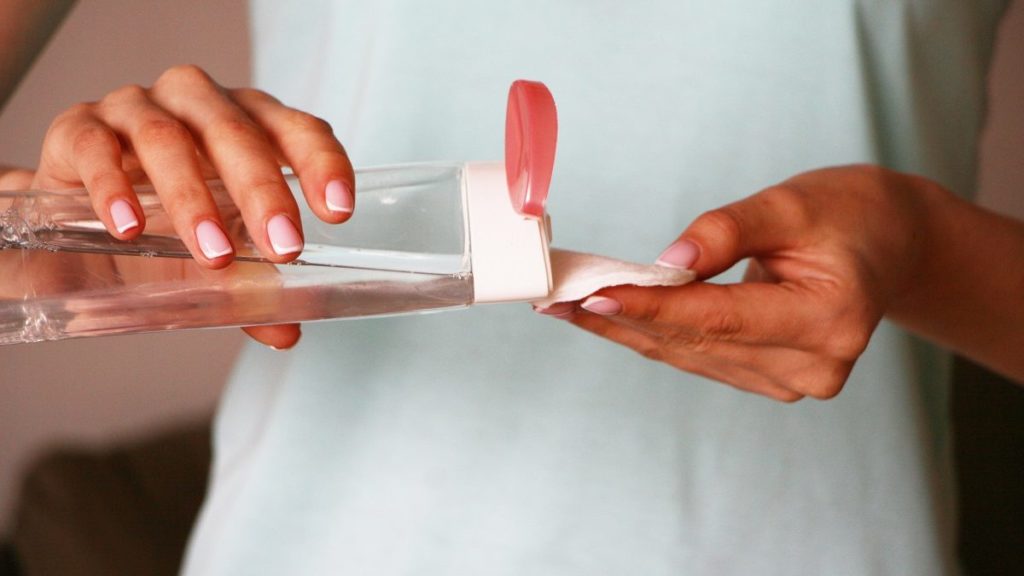 Micellar cleansing water is a popular choice for facial cleansing. The micelles attract dirt, oil, and makeup, lifting them from the face to leave skin feeling fresh without the need for abrasive skin cleaning. Many micellar products are designed to improve skin health through rehydration or by unclogging pores, but they are not always suitable for all skin types. If you have dry skin, are prone to spots, or need a sensitive product, choosing the best cleanser for your skin type may not be straightforward. Our guide will help you find the right cleanser for your requirements.
Best Choice
This micellar water cleanses and refreshes the face of makeup, excess natural oils, and dirt. Only gentle wiping is required for cleaning, and there is no need to rinse the face with water afterward.
Pros:
Garnier SkinActive Micellar Cleansing Water is a cleansing water that is gentle yet powerful in removing makeup, including waterproof mascara and long-lasting lipsticks. The micellar cleansing action also removes dirt and excess oil without requiring any harsh rubbing or wiping. After using the product,the skin is left feeling refreshed and washed clean of impurities, with no greasy residue left behind. This product is free from parabens, fragrances, sulfate, and silicone.
Cons:
You may find that you need to use more of this product than you might expect to cleanse your face of heavy makeup thoroughly. If you use a relatively light layer of makeup, the amount of cleanser required will be reduced, and so this is unlikely to be an issue.
Best For Oily Skin
This cleansing water contains micelles to gently lift makeup and dirt from even the most delicate areas of the face. Suitable for oily and sensitive skin, it is made with seven simple ingredients.
Pros:
The All-in-1 Mattifying micellar cleansing water from Garnier is designed to work as a facial cleanser in the morning and a makeup remover at night. It also removes dirt, and the mattifying liquid leaves oily skin with a matte finish without drying the skin. The micelles work like a magnet to purify pores gently and remove makeup without harsh rubbing. Suitable for sensitive skin, it doesn't contain any oil fragrance, parabens, or sulfates. This cleanser has been dermatologist tested for safety.
Cons:
When removing waterproof makeup with this product, you may find it takes you a little longer to remove the traces of mascara entirely. You may need to use more of the product, or hold the cotton pad over the eye area for longer for the micelles to work. If you want a cleanser that works more quickly, you may prefer a different product.
Best For Sensitive Skin
Bioderma's cleanser is designed following clinical research to address the causes of dry skin. It is formulated to rehydrate skin cells and remove makeup simultaneously with twice-daily use.
Pros:
Bioderma Hydrabio micellar cleansing water is ideal for sensitive, dehydrated skin. It contains no oil but gently removes makeup and cleanses the face, including around the eye area. There is no need to rinse after using the water, and the skin is left decongested and refreshed immediately. It also has a moisturizing element, helping retrain the skin to rebalance hydration within the cells for skin health biologically. The ingredients are non-comedogenic, meaning it doesn't cause spot outbreaks.
Cons:
This micellar water has a fragrance that may not be to your liking. Although many enjoy the scent of this product, if you prefer a fragrance-free or less potent product, you may find Bioderma cleanser overwhelming after use.
Best No Rinse
Bioderma's cleanser is designed following clinical research to address the causes of dry skin. It is formulated to rehydrate skin cells and remove makeup simultaneously with twice-daily use.
Pros:
Designed with a baby's sensitive skin in mind, Mustela No-Rinse cleanser is also suitable for use by adults. Composed of avocado and aloe leaf extract, your baby's skin will be rehydrated and protected. The natural extracts ensure a pleasant, gentle scent. It cleans, washes, and softens skin without removing natural oils. It is suitable for a quick, all-over cleanse between baths or diaper changes. Pediatrician tested, it contains no parabens or alcohol and is hypoallergenic.
Cons:
This cleanser is designed primarily for a baby's delicate skin but can be used by adults to cleanse and refresh. If you are looking for micellar water to remove your makeup, however, you may find that this cleanser is less efficient at removing heavy makeup than a product designed specifically for makeup removal.
Best Fast Acting
Gentle on even the most sensitive skin, Simple micellar cleansing water is a thorough skin cleanser that removes impurities from the skin without containing harsh chemicals or irritating the skin.

Pros:
This Simple micellar water is an advanced facial cleanser that removes dirt and unclogs pores to clean even the most sensitive of faces gently. It is made with triple purified water and micelles to entrap makeup without the need for harsh, irritating chemicals. It instantly boosts skin hydration by 90% so that skin is left feeling fresh, soft, and hydrated. Vitamins B and C promote skin health and can soothe any underlying irritation. There are no artificial perfumes or dyes contained within it.
Cons:
Although it is not necessary to rinse following the use of this cleanser, some people find that not rinsing leaves them with a longer-lasting damp sensation on their skin. If this sensation is likely to bother you, you may prefer a different product.
What Really Matters
Quick to Use
Fitting effective cleansing routines into a busy lifestyle can be challenging, so the product you choose must be quick and easy to use. A fast-acting product also negates the need for repeated rubbing at the sensitive skin of the face, which can lead to micro-abrasions and irritation of the skin. When you have a busy schedule, it is also helpful if a product does not require a rinse with water. A product that does not require water can also be used on-the-go so that you can remove makeup while commuting or in a public place.
Hydrating
Some cleansing products can give the sensation of drying the skin. If the skin's natural oils are stripped too fiercely, the loss of this protective layer of oil can lead to feelings of skin tightness or visible dryness. A cleanser that works to hydrate the skin prevents the skin cells from becoming dehydrated, without compromising on the efficacy of skin cleansing. Some products contain hyaluronic acid or natural plant oils to avoid dryness, leaving you with fresh, soft skin. Using a hydrating product twice daily guarantees that your skin gets the nourishment it needs, but also guarantees your skin is cleansed of any makeup applied.
Dermatologist Approved
Skin conditions and dryness are common, and this is especially true of the facial area. Our face is exposed to central heating, air conditioning, sunlight, and cold winds, and so we must take care of the health of this delicate area. A dermatologist approved product will guarantee that the ingredients within the cleanser are suitable for use on the skin. Many of us will have experience of spots, breakouts, or acne. Choosing a non-comedogenic product avoids the worsening of skin breakouts, giving you more confidence. If you suffer from dry skin or eczema, choosing a gentle cleanser approved by dermatologists allows you to cleanse the skin without aggravating your sensitive skin. Additionally, if you plan to use micellar water on your baby or child, you will want to be sure that it is medically approved for use on developing skin.
What's In Right Now?
With a range of micellar cleansing water products available, some manufacturers have chosen to develop products that are formulated for specific skin types or a specific audience. Micellar water has been designed for dry skin or oily skin, and products are available specifically for babies, for women approaching menopause, and for men. It is beneficial to be able to choose a product that suits not only the characteristics of your skin, but your stage of life or gender, as these can impact the ingredients you should, and should not, be applying to your skin.
Many of us are choosing to use micellar water every day, and sometimes twice a day, so it is no surprise that travel or 'on the go' products have been produced. Smaller bottles that fit into a makeup bag or handbag make it easier for you to take the cleanser on holidays and business trips. Cleansers that do not need rinsing off with water after use allow you to use the product to revitalize or clean the skin on all occasions, including at professional and social events.
Prices
Expensive
$14-$15 for micellar water that cleanses the skin and rehydrates the cells at the same time. These products may contain natural plant extracts and are gentle on even the most delicate skin.
Mid Range
$13 for micellar water that removes even stubborn waterproof mascara yet remains suitable for sensitive skin.
Cheap
$4-$7 for cleansing micellar water that is specially formulated for certain skin types, which could include sensitive skin, dry skin, or oily skin.
FAQs
Is there a product that has a light scent that won't be overpowering?
Micellar water can either be scented or unscented. It is common for some people to find a strong scent overpowering, so if you prefer a gentler smell, choose a product that contains natural oils, including avocado or aloe vera. The inclusion of these oils often leads to a pleasant, fresh scent that relies on a natural ingredient, rather than a synthetic ingredient that can overpower.
Is there a product that the whole family can use?
Although some people want to find a product that is specifically targeted for their age, sex, or skin type, in a busy family, it is useful to have one product in the bathroom that can be used by all. If you have a small bathroom, having one product for the whole household can be a great way of saving space, too. Some micellar cleansing waters contain a gentle formula that is suitable for use on babies' skin, including at diaper changes, but can also be used by adults for makeup removal or general facial cleansing.
Does micellar water help with dry skin during the winter season?
It is common for skin to become dry in extremes of temperature, or as a result of central heating or air conditioning. Some products contain ingredients that promote water uptake by the skin cells, which leads to a softer, plumper feel within the skin and reduces the risk of dryness. Products that contain hyaluronic acid or skin-friendly vitamins are likely to help with your overall skin health. In addition, you will find it helpful to use a good moisturizer after cleansing with micellar water.
I am worried about the environmental impact of using cotton pads every day. Should I avoid micellar water?
There are simple ways to make using micellar water more environmentally friendly. Firstly, using micellar water with cotton pads is already a better choice than using makeup removal wipes, which often contain plastic and end up in a landfill. If you are worried about throwing away cotton pads every day, you could buy organic cotton pads that meet ethical and social standards, as they will break down naturally. If you want to go one step further, you can purchase washable, reusable cotton pads that can go in with the rest of your laundry and will last you for years to come.
Why Trust Us
Since 2007, TotalBeauty has been committed to helping millions of people find the right makeup, skincare, and haircare products for their needs. Our experts know what works best for every face shape, skin type, hair type, and more. They are here to share that knowledge with everyone looking to upgrade their beauty routines or try something new.