5 Best Makeup Setting Sprays for 2020 – Makeup Setting Spray Reviews – Total Beauty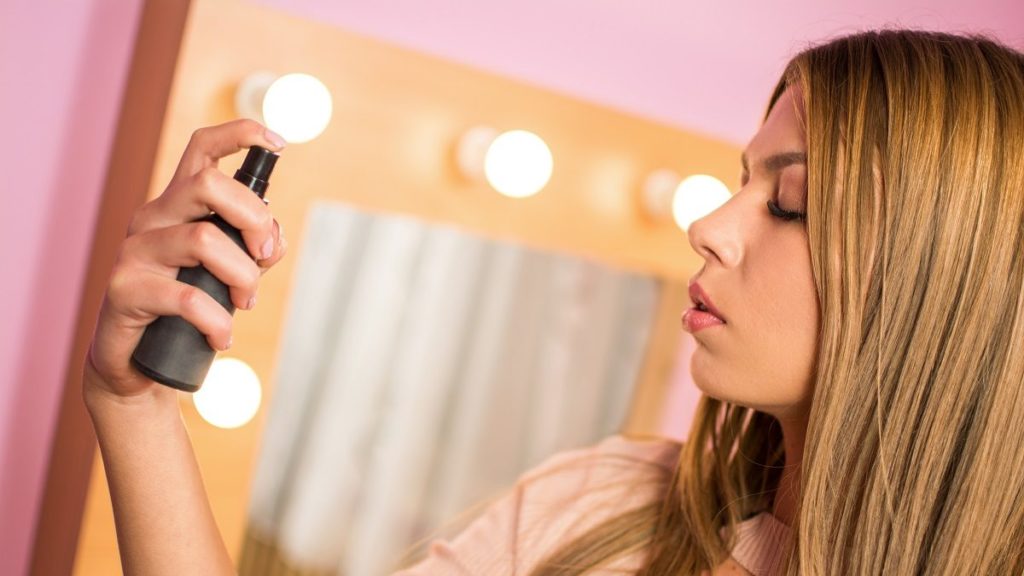 Are you having problems keeping your makeup on for a long time? Do you apply it in the morning, and need to reapply it only a couple of hours later? A setting spray can help to keep your appearance flawless and dazzle everyone.
How to choose the best makeup setting spray? Take a look at the reviews below and find our selection of five top picks currently available on the market. We also provided a buying guide to help you learn more about the spray and pick a formula that suits your skin's characteristics!

Best Choice
The Stay Matte formula is both a primer and a setting spray in a single product. You get a generous amount of 3.4 fluid ounces per pack, which should last for a long time.
Pros:
The product is versatile, and you can apply it both under and over your makeup. Since the formula is quite durable, you can expect it to last throughout the day. The setting spray is transparent, which means it won't change your skin tone. The product is quick-drying, and it only takes several seconds to dry. The formula does a good job of locking in your makeup. You can combine it with other products of the same brand for a better effect. Apart from the big pack, you can also purchase a single-ounce package for testing purposes.
Cons:
Be careful to spread the product evenly because applying too much spray might cause your skin to dry and cause irritation and itchiness. If your skin is prone to oiliness, this product might make the situation worse. Try to apply it quickly since the formula is thick, and your makeup might not hold if you take too much time applying the product.
Best Long-lasting
Milani has designed a long-lasting solution and a spray ideal for those who cannot reapply makeup throughout the day.
Pros:
The setting spray will prime, correct, and set your appearance to ensure that your makeup stays in place for up to 16 hours. That means you can apply it in the morning, and the product will last until you return home in the evening. Make It Last spray should make your skin dewy, and it has a moisturizing effect to promote the skin's hydration. The spray comes with a cruelty-free label issued by PETA. The product comes with a floral fragrance, and it won't oxidize the foundation, which means it won't make it darker.
Cons:
You get a generous amount of product per spray, which makes it hard to ensure a mist-like effect. If you don't hold it away from your face when spraying, the formula might run down your face. You need to be careful to avoid making a mess. The scent is distinctive, and some people might not like it.
Best For Oily Skin
If your skin is prone to oiliness, this formula designed by Elizabeth Mott is a smart choice since it is oil-free, and it will assist in putting shine under control.
Pros:
It is easy to apply this face primer due to its creamy texture. The product is quick-drying and shouldn't take more than 30 seconds to set. You will notice that the spray is suitable for balancing skin complexion and brightening the skin. The formula can minimize pores and help to control shine. You can head outside because the setting spray is waterproof and withstands rain. It also provides a matte finish and assists in hiding fine lines and wrinkles. The manufacturer pinpoints that their products are cruelty-free.
Cons:
It is not as durable as expected, and the makeup might start coming off after several hours. The product is somewhat thick and difficult to apply. A single pack comes with a moderate amount of the formula, which might not last for a long time. The product contains specific ingredients that could cause an allergic reaction.
Best For Mature Skin
If your skin is mature or dries frequently, this product won't contribute to drying, and it will promote hydration with its unique moisture-boosting formula.
Pros:
You can find multiple versions of the Maybelline primer, including those that focus on minimizing pores, controlling redness, or ensuring your skin looks smooth. The formula will blur your skin to hide fine lines and other imperfections. It is easy to apply, and the formula is water-based. It won't make your skin oily, and the primer's lightness ensures that it doesn't feel heavy on your face. The product can last for a long time, and it is suitable for those who don't have time to reapply makeup during the day.
Cons:
The product has a potent maple-like smell to it, and not all users might like that. A single pack only delivers one fluid ounce of the primer, which means the product is not a long-term solution. If your skin is susceptible to oiliness, this setting spray could leave a greasy feel. The product's additional effects, such as minimizing pores, are limited.
Best With Aloe Vera
The default product fragrance is coconut, but you can also go with lavender and gardenia. All three have floral odors to leave a pleasant smell once applied.
Pros:
Georgette Klinger is the company behind the formula that soothes your skin while ensuring that you apply makeup easily, and it lasts for a long time. The facial mist leaves your face glowing and fresh. The formula is versatile and suitable for all skin types. The product contains natural ingredients like aloe vera, green tea, and coconut. These protect the skin against free radicals and oxidative stress while ensuring it looks radiant as ever. You can pick between multiple fragrances, and each pack provides four fluid ounces of the product.
Cons:
If you are not a fan of fragrances, you might not appreciate how this product smells. The hydration effect is somewhat limited and might be unnoticeable if your skin is prone to drying. The formula is a bit sticky, especially if you don't spread it evenly. Apart from natural ingredients, the product also contains synthetic compounds that could cause an allergic reaction.
What Really Matters
It is important not to rush your decision when choosing a makeup setting spray. That way, you ensure to pick a solution to optimize your appearance and protect your skin. Here are the major factors to consider during the process.
Consider Your Skin Type
The critical thing to consider is your skin type. If your skin dries quickly and you already use moisturizing formulas, consider adding a hydrating setting spray to your routine. These sprays might have limited contribution to moisture levels, but they musn't dry your skin. The general rule is that alcohol-filled formulas are the ones that dry out the skin. That is why you want to pick formulas free from any alcohol-based ingredients.
If you have problems with oily skin, go ahead and choose a product labeled oil-free. These formulas don't contain any ingredients that clog pores and contribute to oiliness. Thanks to that, you can keep the shine under control and look great throughout the day. A matte finish can also be helpful for oily skin.
Those with combination skin have the room to experiment. You can try various formulas until you find the most suitable for your skin's traits.
Ingredients
Parabens, phthalates, alcohol-based ingredients, and other synthetic compounds could cause irritation and redness. If your skin is sensitive, you want to steer clear from these ingredients.
On the other hand, plant and natural-based compounds are welcome in a makeup setting spray formula. You can find products infused with aloe vera, green tea, coconut, and other nutrient-filled ingredients. These are important to promote the hydration of your skin, energize it, and protect it from oxidative stress.
How Long Does It Last?
The setting spray should keep your makeup intact. And while most sprays do an excellent job at doing that at first, the effects might wear off over time. After you apply the setting spray, your makeup will stay on anywhere from a couple to 16 hours or more. If you need to wear it the entire day, look for the longest lasting solutions on the market. But if you are attending an event where you will be home in several hours, you can also go with formulas that don't last long but are more suitable for your skin.
Other Features to Consider
Here is a list of other things that might help you choose a makeup setting spray:
Versatility – some setting sprays also act as primers, so make sure to check the versatility of the product when buying it.
Texture – you can find setting sprays with creamy textures, as well as lightweight and heavy formulas. Although it depends on your preference, you can't go wrong with a light formula that you don't feel on your face.
Easy to apply – does the product comes with an applicator? Does it take a long time to absorb into the skin? All these are factors that contribute to the ease of applying.
Size – you could get various quantities of setting sprays depending on the product and the manufacturer. While considering the price, always consider how much spray you receive in the bottle.
What's in Right Now?
Setting sprays have a primary purpose, and that is ensuring that your makeup stays on for as long as possible. However, that doesn't mean these products shouldn't have a pleasant odor. Many users in the industry want their cosmetic formulas to have a pleasant smell, which is why fragrance has become the latest trend in the industry.
The most common setting spray fragrances found on the market are plant-based. You will discover gardenia, lavender, and other odors that smell pleasantly after applying. It is up to you to choose how strong the fragrance you want to be.
It is worth noting that not all people appreciate fragrances, which is why they prefer their setting sprays odor-free. Many manufacturers also offer these options to suit the buyers' needs.
Prices
The most affordable deals for makeup setting sprays will cost you about $5, while premium products require investing $15 or more.
Here are the pricing ranges to help you set a budget for a setting spray:
Cheap – affordable makeup setting sprays are available for around $5. For the price, you can expect a modest amount of a high-quality product. If you find that you get more spray than expected, double-check the ingredients to avoid any skin irritation.
Mid-range – the average price of setting sprays is from $7 to $15. You can find a wide range of products at this price, so make sure to choose carefully. Pick a product that fits your skin type, and can deliver the effects expected.
Expensive –a premium setting spray will cost you $15 or more. In return, you can expect a long-lasting solution that will keep your makeup in place. Additionally, the products might also offer additional benefits, such as promoting hydration levels, anti-aging effects, etc.
FAQ
Q: Is a makeup setting spray safe for your skin?
A: Makeup setting sprays are generally safe to apply on facial skin, but many factors could affect your skin's sensitivity. Some ingredients included in setting spray formulas could cause irritation and redness for sensitive skin. Others contribute to oiliness, and some might dry your skin. That is why you should choose a formula that fits your skin's characteristics.
Q: When should you use a setting spray on your face?
A: A setting spray serves to hold your makeup in place. That is why it is recommended to place it over your makeup's top layer. Alternatively, if your setting spray also acts as a primer, you can spray it before applying the foundation. That will provide a better base for the makeup to set.
Q: Is a makeup setting spray waterproof?
A: Look for the label on the product that indicates it is waterproof. If you find a confirmation, you can feel free to head outside because your formula will resist rain.
Q: Does a makeup setting spray cause breakouts?
A: If your skin is sensitive and you are susceptible to acne breakouts, pick your setting spray carefully. Look for formulas that utilize natural-based and high-quality ingredients. These ensure that your skin remains irritation-free, which minimizes the risk of breakouts.
Why Trust Us
Since 2007, TotalBeauty has been committed to helping millions of people find the right makeup, skincare, and haircare products for their needs. Our experts know what works best for every face shape, skin type, hair type, and more. They are here to share that knowledge with everyone looking to upgrade their beauty routines or try something new.