5 Best Hair Removal Products for Women for 2020 – Total Beauty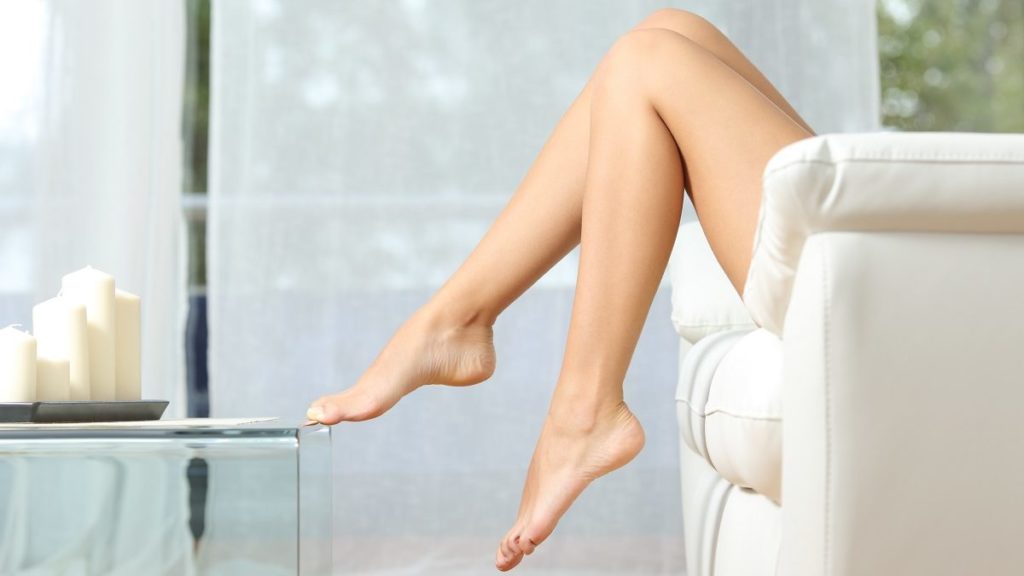 When it comes to hair removal for women, there are a lot of different options depending on your pain tolerance and how long you want the results to last. Shaving is perhaps the most popular form of hair removal. However, it can cause the hairs to grow back thicker and be a source of irritation. An alternative is hair removal methods that remove the hair at the root. This offers long-lasting protection against regrowth and the hair will grow back finer as a result. Here are our top five hair removal options for women.
Best Choice
The Panasonic Electric Shaver for Women has three independent floating heads that can be used on multiple areas of the body and is suitable for wet or dry use.
Pros:
Compared with a disposable razor, an electric version works out as better value in the long run and is more environmentally friendly. Electric shavers are versatile, especially as this particular model has three different heads to suit the alternating contours of the body. Being able to use it in wet or dry conditions is a big plus as it means you don't have to be in the shower like most razors. The blades are hypoallergenic, making it suitable for use on sensitive skin.
Cons:
Shaving in general is only a short-term solution to hair removal and will cause hairs to grow back coarser. This particular product is sold internationally but the electric voltage is only suitable for US power outlets, so beware if you're purchasing from outside the US.
Best IPL Hair Removal
The Ice Hair Removal for Women uses a technology called IPL (intense pulsed light) to remove hair permanently over several sessions.
Pros:
IPL is normally performed in a salon at a large cost, so having an at-home system is excellent value and is more convenient. Laser hair removal isn't painful but can zap the skin, so to combat this, the device includes a cooling mode to instantly soothe the skin. The device has five different modes, so you can tailor it to the hair type you are working on. It can be used on any area of the body and works to destroy the hair growth cycle for long-lasting results.
Cons:
When you go for laser hair removal, there's normally a consultation to check if your skin type and hair color are suitable which an at-home device won't have. IPL doesn't work on blonde hair as the laser can't distinguish it properly, so this device isn't suitable for everyone.
Best for Face
The Finishing Touch Flawless Hair Remover is designed to be used on the go. It's made exclusively for the face and is battery-powered.
Pros:
The hair on our faces tends to be finer than regular body hair. As a result, most hair removal methods are far too abrasive, especially when used on the delicate skin on the face. The Finishing Touch Flawless Hair Remover is designed especially for facial hair in particular baby hairs and peach fuzz. It has a small and compact design making it portable and also features a light for ease of use. It is gentle enough to be used every day and is hypoallergenic.
Cons:
If you are looking to remove body hair elsewhere on your body, then you'll need an alternative device or hair removal method. The product is the original version of this design, which is heavily duped. However, despite this, no instructions are included, which would be helpful for first-time users.
Best Hair Removal Spray
This is a spray that is designed to be used after hair removal to prevent the hair from growing back. It's suitable to be used in all areas of the body.
Pros:
While it won't directly remove hair that's on the body, it will work to reduce it coming back once hair removal has taken place. As it's a spray, it's not painful or time-consuming like most hair removal methods can be. The formula is packed full of natural ingredients to soothe and hydrate the skin. It would be ideal for use at home following a hair removal treatment.
Cons:
Other tools or products are still required to remove the hair. The instructions state the spray must be used consecutively every day to see results, so although it's quick to use, a fair bit of upkeep is required to actually see results.
Best for Bikini Area
The KōluaWax Hard Wax Beans are tiny pellets that melt down in a pot to form wax. This variety is specifically designed for coarse hairs that can be found on the underarms and bikini area.
Pros:
Compared to traditional strip wax, hard wax is much more suitable for the underarm or bikini area. It allows the therapist to spread the wax across the skin with a spatula, making hair removal both more effective and less painful because of the heat that opens up the follicles. Pulling the wax off is also easier than strip wax and the gloopy texture sets to a solid to lift up far more hairs in one go. This particular set is designed for at-home use, which is cheaper than visiting a salon.
Cons:
If used at home as suggested, it can be difficult to wax intimate areas correctly yourself. Another potential issue is the heat as wax therapists monitor the temperature to ensure it's hot enough to work but not at the level where it can burn the skin. If using this product on friends or family, clean spatulas need to be used to avoid contamination.
What Really Matters
Long-Lasting Hair Removal
The goal of removing hair is to ensure it's gone. So, the last thing you'd want is for the hair removal method you use not to work completely or only to give short term results. Typically shaving is the most popular option of hair removal because it's cheap, quick and painless to do. However, the biggest problem is that the hair grows back very quickly. In some areas of the body, the hair will have grown back noticeably the next day. That's why longer-lasting hair removal is preferred. The length of time hair grows back will vary depending on the method you use. For example, the results of waxing will last up to six weeks, whereas laser hair removal is permanent. Although laser is the most expensive method of hair removal, given its indefinite results, it actually works out cheaper over time as once the hair is gone you don't have to remove it again.
A Smooth Finish
With any hair removal, a smooth finish is always the aim, especially when hair grows through dark and is noticeable. For example, on the legs, if you shave the hairs you will notice it can leave a prickly or stubbly feeling. So even though the hair has been shaved off, a smooth result hasn't been achieved. As the hair length is now too short for waxing, you'd have to wait until the hair is a few centimeters to remove at the root, so the skin feels smooth. However, some razors do offer a smooth finish so look out for these as they are better than regular razors if shaving is your preferred hair removal method.
Ease of Use
Removing your own body hair isn't always that straightforward. You may have issues with flexibility, plus some areas of the body are incredibly sensitive and take extreme discipline to take care of them yourself. The hair removal method you choose needs to fit your needs in terms of the hair type but also how easy the device is to operate. Some hair removal methods such as electric shavers can be used in the shower. Others, such as waxing or lasers, require precise application. There are also many steps to follow with waxing in particular, so this might not be suitable for beginners. Having said that, these days there are plenty of free tutorials online by wax therapists to guide you if you get stuck.
What's in Right Now?
Laser hair removal has become increasingly popular in recent times, to the point where we are now seeing traditional wax salons offer it, too. Quite simply, laser hair removal kills the hair at the root, meaning the hair cycle is permanently disrupted. A disadvantage is that laser hair removal often requires several sessions and is expensive. Laser hair removal isn't suitable for all skin types or hair colors, so it doesn't work as well on everyone.
Prices
Cheap
The most inexpensive form of hair removal is shaving. Razors can be picked up for as little as $3 and tend to be disposable ones that are suitable for few-time use.
Mid-Range
The average cost of hair removal is $10-$100 which is dependent on whether you are buying a hair removal cream (such as Veet) from the store or heading for a wax in a salon. The cost of a wax depends on the area of the body. However, it's also possible to get a waxing package deal from a salon, making it cheaper overall.
Expensive
The most expensive kind of hair removal is laser. The cost will depend on the area of the country you're in and the part of the body from which you'd like to remove hair. For a small surface area such as the underarms, expect to pay $30 a session (five to six sessions are recommended). Large surface areas such as the legs cost around $140 a session.
FAQs
Why is waxing better than shaving?
First and foremost, when you wax hair you are removing the hair entirely from the root. Shaving simply trims the top of the hair so it's not as visible, but the follicle remains in place. As a result, it grows back more quickly. This is because instead of having to grow the hair from scratch again, the hair simply needs to grow a few millimeters for it to become visible. Waxing also means the hair that grows back does so thinner, which also means waxing becomes less painful over time. If you go to a salon for a professional wax, this is a spa-like experience in which you not only get the best results but is more relaxing than doing it yourself.
How can I make waxing hurt less?
The pain experienced when waxing comes down to a few factors. This includes the type of waxed used, the hair length, and how often you wax. If you are heading to your first wax, it's likely to be more painful because the hair follicles will be quite thick. However, when the hair grows back it will come through thinner, making it easier to wax. Having a professional wax your hair helps reduce the pain because they will put you at ease, get it over as quickly as possible and apply pressure directly after the wax is removed to reduce the pain. On coarser areas of hair, using hot wax rather than strip wax will also make it less painful.
Which method of hair removal is best for busy lifestyles?
Without a doubt, this answer is laser hair removal. Although a few sessions are needed for the hair to totally die off, compared with constantly having to shave or book waxing appointments it's far less hassle in the long run. Underarm laser hair removal is a prime example of this, especially as it means you can wear any top without having to consider hair regrowth on display.
Why does hair grow at different rates across the body?
Hair grows approximately 0.44 millimeters per day. It doesn't sound a lot, but in noticeable areas (such as the underarms) the regrowth soon becomes apparent. The rate of hair growth is also dependent on your hormones and your overall health. As hair is not an important process in the body, it's one of the last areas in the body to receive nutrients and vitamins.
Why Trust Us
Since 2007, TotalBeauty has been committed to helping millions of people find the right makeup, skincare, and haircare products for their needs. Our experts know what works best for every face shape, skin type, hair type, and more. They are here to share that knowledge with everyone looking to upgrade their beauty routines or try something new.