5 Best Hair Dyes for 2020 – Total Beauty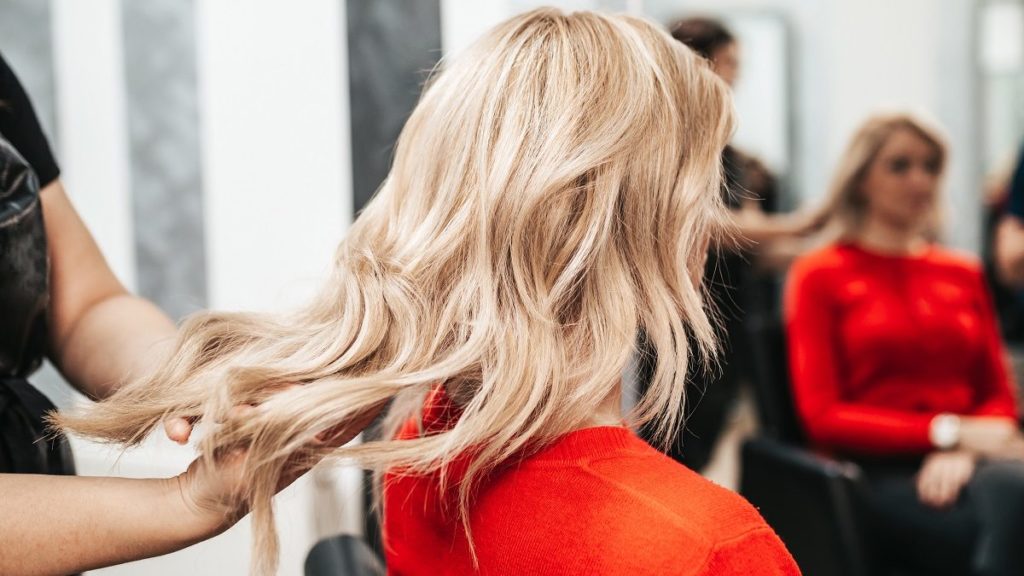 Nearly 43 million women in the United States have dyed their hair in the last six months. Why wouldn't they? There are so many colors, styles, and application methods that turn your locks from drab to fab is a breeze. Hair dye is much kinder to your hair than it was in the past, so creating a new you without harm is a real option. The difficult part is choosing a hair dye that gives you the color you want without fuss or mess. We have made a handy list of the top five hair dyes so the only thing you have to do is choose your shade!
Best Choice
This Garnier hair color is enriched with oils for beautiful color with deep conditioning. With an oil content of 60% in a no-drip formula, this hair dye gives you everything you need.

Pros:
Garnier Olia comes in thirty-one natural colors. No ammonia is included in the production of this dye, which leaves the hair soft and healthy. The oil content includes natural flower oils. A deep, even, highly pigmented color is easily achieved. Garnier Olia can cover grey effectively. The formula is infused with avocado, olive, and shea oils. The hair is left nourished, shiny, and glossy. Application is simple as the non-drip formula makes little to no mess.
Cons:
You will need to use a sulfate-free shampoo to limit the amount of color that washes out. The undertone colors are on the warm spectrum, using rose-red as a base for many of the shades.
Ideal for Brown Hair
L'Oreal Paris Feria Multi-Faceted Shimmering Hair Color gives you deep shine with deep conditioning. The power shimmer conditioner seals in a fade-free formula for natural-looking highlights.
Pros:
Feria Multi-Faceted Shimmering Hair Color comes in forty-three colors. There are several non-traditional shades in the range. Inspired by cutting-edge fashion, the shades complement current fashion trends. Feria covers well, accentuating highlights and natural shade variations in the hair. Intense conditioning is achieved by the shimmering sealer provided in the kit. The formula does not have a strong, unpleasant smell.
Cons:
You may need to use two boxes of color on the first application if you want to achieve a dramatic color change. Feria Multi-Faceted Shimmering Hair Color is not recommended for covering grey hair.
Best Hair Dye Kit
Clairol Nice 'n Easy Perfect 10 gives you up to sixty days of color in one ten-minute application. As a limited-drip formula of micropearls that amp up shine, this creme color is ultra-quick and easy
Pros:
Nice 'n Easy Perfect 10 gives even color coverage. It covers grey right up to the scalp, leaving no variation in shade. The application is quick at only ten minutes of developing time. Clairol uses a color-infusion formula that penetrates the strand and infuses permanent color into the hair. Depending on your beauty routine, the color can last up to sixty days. There are fourteen choices in the color range. The resulting shade is natural. Micropearls add gloss to the hair, leaving it healthy-looking. Everything you need to dye your hair is in the box, including the patented integral hair comb applicator. The formula does not smother the natural variations of color in the hair. Inspired by salon color, Perfect 10 is gentle on the hair.
Cons:
This hair dye has a strong odor that lasts for a couple of hours after application. The brown shades include red undertones that may not be suitable for everyone.
Best Semi-Permanent Hair
Arctic Fox Semi-Permanent Hair Color produces vibrant, eye-catching color that does not damage your hair. Gentle enough for frequent use, the colors can be mixed to create an endless palette.
Pros:
Arctic Fox produces stunning non-traditional shades that nourish the hair. No animal products are used in the manufacturing of this product. Harsh chemicals are not included in the formula, and it is not tested on animals. This hair dye can be used as often as needed. The deeper shades can be used to cover up faded hair dye. Arctic Fox comes in twenty-three colors. The product has a simple application process as no developer is needed. Left-over color can be added to your conditioner to top-up the shade as you wash. The aroma is natural and pleasant. Color bleed onto fabrics is minimal. Coverage is expected to last four to six weeks. Fifteen percent of all sales are donated to animal charities. This product is made in the USA.
Cons:
All the colors included in this range are vivid non-traditional colors. Some shades fade much more quickly than others, making the longevity of the dye dependent on the chosen color.
Best Hair Dye Wax
Sovoncare Mofajang Hair Color Material provides excellent temporary color that removes quickly. With vibrant shades for special occasions, cosplay, festivals, and Halloween just got a lot more fun!
Pros:
Mofajang is a colored hair wax that covers each strand. Massage the product into damp hair, style it, and then wash it out when needed. Color transferal from hair to clothes is minimal when the wax is dry. The effect is temporary and washes out completely. The intensity of the shade can be layered to achieve different depths of color. Hair wax allows you to create and style and texture in your hairstyle. Made with 100% natural ingredients, vegan-approved and cruelty-free, this colored hair wax is gentle on the hair. This product offers the freedom to experiment with hair color without the commitment of permanence. The application is quick and easy with the aroma of licorice. Colored Hair Wax gives the appearance of thicker hair and is easy to restyle.
Cons:
All of the colors are non-traditional. The product is a wax and leaves the hair in a semi-solid condition.
What Really Matters
Color
It may be a bit obvious, but you use hair dye to color your hair. It stands to reason that the color you end up with really matters. Many people who use home dye misunderstand the importance of choosing the right shade to achieve their goals. Most shade choices are made on the color outcome alone, but your skin tone and eye color seriously affect how flattering a different shade is on you. Just as the wrong colored dress or blouse does not suit your complexion, the wrong shade of hair color can have the same effect. Consider the tone you choose as carefully as you would a piece of clothing.
It's also good to remember that as you mature, your natural hair color lightens. No, I don't just mean that you go grey, but that your base color softens as the pigment in your body fades. Your skin will also appear paler and can develop pigment spots. It's easy to stay with the same color palette you picked out in 1970 as it was a match made in Hairy Heaven, but it may not be quite as flattering as you age. Consider using a shade or two lighter from your old faithful boxed dye if you want a more natural-looking and believable hair color as you advance in years.
Realistic Color Goals
It's so easy to look at the beautiful color on the box of dye and imagine yourself running through fields of daffodils, beautiful locks blowing in the wind, being chased by Chris Hemsworth, but in reality, the color you end up with depends on the color you start with. And not just the color–the condition of your hair also has a huge part to play in the shade outcome.
If your hair is thick and dark, it will probably take a pre-treatment to achieve the color on the box. Grey hair does not color evenly unless the dye states it will. Bleached or dry hair accepts the formula more easily and thus produces a deeper color. Dying previously dyed hair will change the color outcome as the dyes react with each other. Some dyes have a goal of evenly covering all hair, some accentuate the natural highlights. With all these choices, you need to look at the sample color and consider it a guideline in perfect conditions. A realistic goal can keep you from continually applying color in search of perfection and causing preventable damage.
Damage
Do you remember those days when your mother told you, "No, you can't dye your hair–you'll ruin it!" Well, she was right and wrong at the same time! Coloring your hair can damage it. You run a slightly higher risk of damage by home-dying, but the cost-savings often outweigh the risk.
Modern box dyes are much kinder to the hair than the radioactive chemicals your grandmother used. Coloring kits contain all you need to dye the hair and then seal and condition it for healthy hair. That does not mean that your hair will stay healthy even after continual dying. Lightening the shade one or two tones is pretty safe, but creating a lighter look is always rough on your hair. If you are pre-bleaching your hair to accept a truer shade, then the damage may be significant. If you color your hair, be kind to it. Use products that nourish the hair when it is washed. Avoid excessive heat, swimming, and sunshine. Try to touch it up by dying the roots, rather than the whole head. Stick with a drastic change for a while as upkeep can be less damaging than the initial change. Staying around your natural shade will always reduce the possibility of damage.
What's in Right Now?
It's time to celebrate–brown is in! For all the mousy browns who have hidden from the spotlight, it's your time to shine. Deep, chocolate browns that create depth are hitting the runway and spilling onto High Street. This addition gives the illusion of warmth and dimension, lifting brown hair from being a curse to being a conversation piece.
Warm hair is the way to go right now, with red highlights being a shade of choice for J-Lo, Vanessa Hudgens, and Zendaya. Right now, redheads are hot! Any shade that reminds you of comforting wood or natural tones is this season's must-have. If you're not brave enough to go for a full head of color, think about highlights or foils. For the look that is totally on point, add foils of different colors from the warm spectrum to give a stunning overall interesting look.
Price
Expensive
$11-$25 is the price you will pay for an expensive hair dye. But don't be fooled–this price band may not bring you a better color. It will bring you the same color as cheaper dyes, but they are likely to be more nourishing formulas that protect the hair from possible damage. It is interesting to note that this price range has most of the all-natural dyes and crazy colors. It is also interesting to note that most of these non-traditional dyes are expensive, but not permanent, and are often prone to color-fading.
Mid-Range
$7-$11 is where the majority of boxed hair dyes fall. You can find a huge range of colors, including non-natural shades and temporary hair wax, so picking one to suit you will not be a problem. Consider paying a bit more for the dye to get added protection. It not only protects the health of your hair but offers conditioners and sealers that keep the color vibrant for longer.
Cheap
For $3-$7, some brand names will provide you with a color change. The shade range is limited, and the damage protection is minimal. There are other no-name box dyes, but the quality may not keep your hair healthy. Be wary of this price range if you want a drastic shade-change or plan to keep the color for some time. Your hair may suffer.
FAQs
How do I choose the best hair color for me?
Choosing the best hair color for you depends on your goals. There are so many choices of color you no longer have to stick with an even version of your natural color. Ask yourself, "Who do I want to be?" Choose accordingly. Don't be afraid to be daring. There are semi-permanent and temporary colors that you can experiment with. Always take your complexion into account when choosing a dye as we all have colors that make us look ill, and permanent color lasts a long, long time.
Is there a dye that is easy on upkeep?
Yes–pretty much all of them. Most modern colors are permanent and will stay on the hair through normal wear. They do lighten with exposure to heat and chemicals (think: swimming pool), but they do stay put. Keep your hair healthy with a good beauty routine and it will not need much upkeep at all.
As for the natural color of your roots that start to grow the second after you dye it–that's not so easy. New hair growth starts immediately after you finish coloring and will continue relentlessly. That will happen with any color and takes vigilance to overcome. Root touch-ups are mandatory with dyed hair. There are sprays and root touch-up kits to increase the length of time between full-head treatments, but they come in a limited color selection.
How quickly does dyed hair fade?
Hair dye is fickle. All hair color fades, period. It's just that they don't fade at the same rate. The rule of thumb is that the lighter you go, the quicker it fades. But non-traditional colors typically have the shortest life of all.
How quickly your color fades depends on the original hair color and how far you varied from it, your washing routine and cleansing products, and how you style your hair. The more you clean, the lighter it gets.
Why Trust Us
Since 2007, TotalBeauty has been committed to helping millions of people find the right makeup, skincare, and haircare products for their needs. Our experts know what works best for every face shape, skin type, hair type, and more. They are here to share that knowledge with everyone looking to upgrade their beauty routines or try something new.