5 Best Hair Clips for 2020 – Hair Clip Reviews – Total Beauty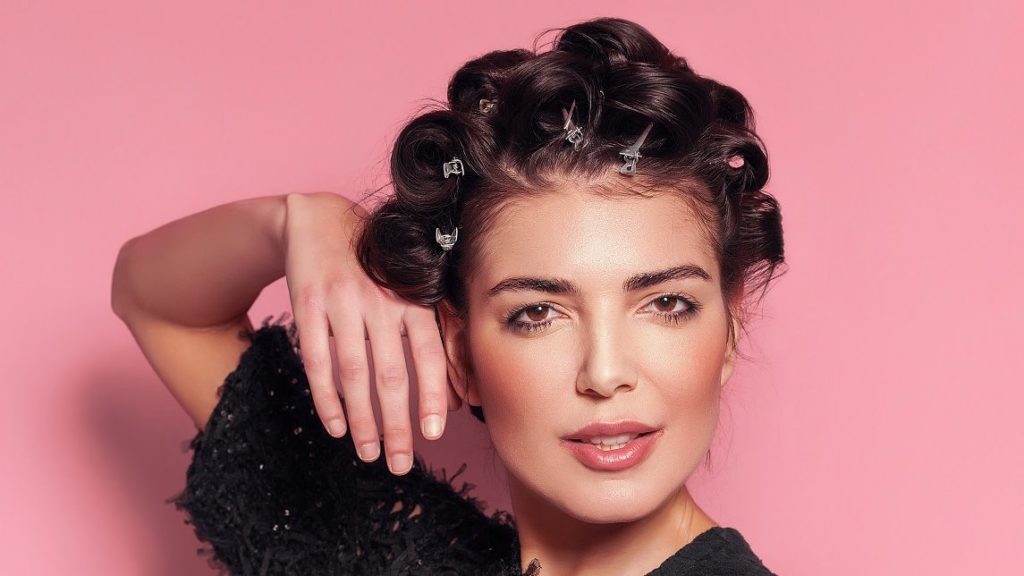 Hair clips are a popular choice for both women's and children's hair, and there is a range of available styles. From practical clips that offer a strong all-day hold to ornate barrettes that give a touch of class, there is a huge variety of clips available that can be used in a multitude of social settings. Our guide to the best hair clips can help you find the right clip for every age, budget, and event, as well as those to fit your own personal taste.
Best Choice
The large Rosette styling claw is ideal for thicker hair. It has interlocking teeth that can clip all of your hair back. Strong holding power will prevent your hairstyle from slipping.

Pros:
The large Rosette styling claw is durable with a large bending shape, making it ideal for easy hairdos. It can be used to hold bangs or small sections of hair away from the face and is suitable for either a quick, casual style or a formal up-do. It is approximately four inches in length and opens to a width of three and a half inches to hold a good volume of hair. It has strong holding power, making it suitable for thick, heavy, and long hair. It won't lose grip on your hair and will last long-term.
Cons:
The clip is ideal for thick or long hair but may feel too large for thinner or shorter hair. If you have experienced hair thinning or have naturally fine hair, this clip may be too bulky for your natural hair.
Best Fancy
A selection of twelve gold-colored hair clips adorned with handmade pearls offers a clip for every occasion. Their longer length ensures maximum impact for weddings, photoshoots, and even casual wear.
Pros:
Presented in a box, twelve gold metal alloy-base hair clips each feature a selection of handmade pearls. Each pearl has been carefully selected and the pearls are connected with durable fishing line for an elegant look that lasts. The twelve different styles offer a selection of both elegant and simple clips that are suitable for weddings, parties, and everyday wear. They suit most hair types and can be used by people of any age. Each clip is eight to nine centimeters long for maximum effect.
Cons:
Although these hair clips can be worn by children, their larger size may not always be suitable. The clips feature a generous length, and some are also quite wide. These larger clips may not suit the finer hair of children and may also look quite large depending on the age and size of the child.
Best for Layers and Bangs
The classic hair clip by Goody comes in a range of metallics to add elegance to a timeless hairstyle. Each clip can be used to gently hold hair away from the face without damaging the hair.
Best for Layers and Bangs
Pros:
This pack of eight hair barrettes by Goody features a range of metal clips in silver, bronze, and gold. They are suitable for everyday styles. The barrettes do not slip and offer a comfortable, light hold for both users of every age. They are perfect for all hair types and do not snag or damage hair. This selection of clips offers a great solution for styling layers and bangs, allowing you to partition your hair and hold certain sections back. The metallic colors offer a splash of style to an everyday look.
Cons:
These hair clips have a sliding mechanism to close the clip around the hair. If you are used to a snap-shut system or a clip that otherwise pushes shut, it may take a bit of time to get used to sliding the back of the clip into place. This clip may not be suitable where dexterity is limited.
Best Vintage Style
This collection of vintage bronze-colored clips and pins are suitable for weddings, parties, and professional occasions. They have a strong hold on hair and are suitable for adults and children.
Pros:
This vintage style collection of twenty-two hair clips features bronze barrette bobby pins and clips. The different sizes and styles included allow you to coordinate a clip with your hairstyle and clothing. Styles include leaves, butterflies, and plant leaves. The clips are durable and hold hair well. Made of bronze-colored alloy, the clips have a length of 3.5 centimeters and the bobby pins' lengths are 5.5 centimeters. The collection comes with a black storage bag to keep them tidy at home and for ease while traveling.
Cons:
These hair clips and pins offer a strong hold to keep your hair off your face. However, if you have a sensitive scalp or fine hair, these clips might feel a little tight when putting them in or removing them.
Best for Little Girls
Funtopia offers a colorful, exciting collection of snap-shut clips in a variety of colors and shapes. Ideal for school-aged children, the wide variety ensures there is a clip for every occasion.
Pros:
This set of one hundred clips by Funtopia is ideal for children. A variety of colorful clips including animal, flower, crown, and rainbow designs is included to ensure your child has the right clip for every occasion. Plain colorful clips are also included to ensure you have a clip available for every outfit choice. Made of durable material, the clips hold through daily wear and being accidentally dropped. They are suitable for parties, school, and holidays. The clips snap shut for easy wear.
Cons:
Some of the clips cannot be worn in pairs as it would lead to one clip being upside down on one side of the head, creating an uneven look.
What Really Matters
Strength
When you wear a clip, it's likely that you want it to both serve a function and be aesthetically pleasing. A clip that offers a strong hold will keep hair away from your face or off your neck without needing to readjust the clip later in the day. The clip should grip the hair without pulling, snagging, or breaking the individual hairs as pulling on hair can cause pain and damage. Larger-sized clips will be more effective at holding more hair up, and curved claws will help to anchor hair in place for longer. Smaller clips that contain a spring may also offer a stronger hold for sectioning smaller areas of hair away from the face.
Durability
Hair clips can be put under a considerable load when holding hair back. Whether you choose a snap-or push-shut clip or a clip with a spring, you want to know that it can cope with holding your hair up all day without becoming damaged or weakened. Due to their small size and the nature of inserting a clip, it is not uncommon for clips to be accidentally dropped when being fixed in the hair. You want to know that the clip you choose will withstand being dropped occasionally without becoming damaged or broken. This is particularly important with clips that may also be used in children's hair.
Aesthetics
Although the primary function of a hair clip might be to hold hair back or to create a particular hairstyle, it is important that you also love the style of the clip you choose. From ornate, antique-looking clips to modern, jewel-encrusted barrettes, the style of clip you choose should appeal to your personal taste. A clip can make a statement by standing out from your hair color and style, or it can blend in to allow you to emphasize the style of hairdo you have chosen. Packs of clips that contain multiple styles, shapes, or colors offer flexibility regardless of the occasion or outfit you have chosen.
What's in Right Now?
Over time, it is easy to develop a large collection of hair clips. As the majority of hair clips are quite small, it is not uncommon to lose one or two from a selection, especially if you take them on holiday or to professional events with you. Many selections of clips are now being sold with a box or bag to keep the clips together. A bag can be helpful in making it quicker to find the exact clip you require each day and is also useful if you take the clips with you, as they will not get lost in your handbag.
Children's hair clips remain popular, and some clips are designed specifically for children. Children's clips often feature bright colors or fun patterns to appeal to their young minds. However, you may wish for your child to wear a hair clip that is suitable for both adults and children. Clips with pearls or gemstones can also be suitable for little kids, especially at occasions such as weddings and parties. It has become popular for mothers and their children to wear the same hair clips to events to mark their connection.
Prices
Expensive
$9.99-$10.99 buys a selection of stylish, hardwearing, and durable hair clips. Hair clips within this price range will be suited to thicker, heavier hair. The hair clips may come within a handy bag so that you can safely store the clips.
Mid-Range
$4.30-$6.99 offers a selection of stylish hair clips that can be worn at a multitude of events. Hair clips within this range should be comfortable and long-lasting.
Cheap
$1-$4.29 gets a selection of light-hold, easy-wear hair clips. Hair clips within this price range may be better suited to children, who are more likely to lose hair clips. You may notice hair clips in this range may also be a bit flimsier, and thus are suited for thin hair.
FAQs
Is there a hair clip that suits both mothers and their children?
Depending on the age of your child, a number of hair clip products will be suitable. If your child is younger, you may need to select a collection of hair clips that include smaller-sized hair clips that won't appear overwhelming on their smaller head. You will also want to consider the durability of the hair clip, as the risk of accidental damage could be higher if worn by a child. As children can be more sensitive when having their hair styled, a clip that doesn't snag hair may be a more comfortable choice.
What sort of clip should I use for very thick hair?
If you have thick, long, or heavy hair, it can be difficult to find a clip strong enough to hold it. Claw-like clips that have a pronounced curve can be more effective in holding the hair in place. Large-sized barrette clips or those that have a wider gap between the barrette and the clasp, accommodate thicker hair. Beaked clips can also work well for holding large volumes of hair. Thicker hair generally requires curved rather than flat clips, and selecting a large size will often be beneficial.
What's the ideal hair clip for a bride?
Many brides who do not choose an updo will instead choose to wear a clip to hold their hair back from their face. Clips, bobby pins, and hair combs can all be used to produce a glamorous hairstyle that appears effortless. When looking for a clip, consider the detail of your wedding dress and try to coordinate your clip with any features of the dress such as pearls, lace, or even feathers. You could also use a clip to weave flowers into your hair to make a connection with your wedding bouquet.
Is there such a thing as an eco-friendly hair clip?
For eco-friendly hair clips, consider looking for barrettes, clips, and claws that are handmade on a smaller scale. You might look for clips that are recycled, upcycled, clips that include pieces of fabric that would otherwise have gone to waste, or clips that do not include much packaging when they are dispatched.
Why Trust Us
Since 2007, TotalBeauty has been committed to helping millions of people find the right makeup, skincare, and haircare products for their needs. Our experts know what works best for every face shape, skin type, hair type, and more. They are here to share that knowledge with everyone looking to upgrade their beauty routines or try something new.