5 Best Electric Toothbrushes for 2020 – Total Beauty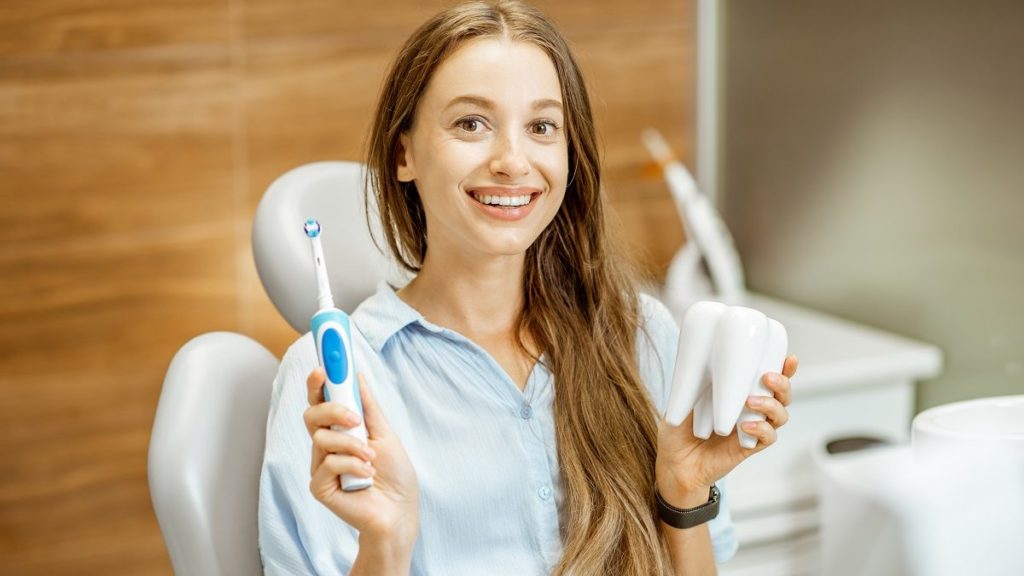 Good dental hygiene is important for preventing bad breath, gum disease, tooth decay, and tooth loss. In fact, researchers have found links between gum disease and other serious illnesses such as diabetes and heart disease, so it's vital that you maintain healthy teeth between dental visits. Electric toothbrushes have been found to be much more effective at cleaning teeth than manual toothbrushes. With so many options on the market, it can be difficult to know which to buy. If you are in the market for a new electric toothbrush, here are our top 5.
Best Choice
Fairywill PRO Sonic Electric Toothbrush with UV Sanitizer, UV Sanitizing and Charging Base & UV Sanitizing and Charging Travel Case, 8 Replacement Heads Included.
Pros:
This sonic electric toothbrush has many great features. Most notable is its ability to kill harmful fecal and other bacteria that's often airborne in the bathroom. There is an ultraviolet (UV) light sanitizer on the base and travel chargers so you'll always have it, even if you're on the go. It has 5 cleaning modes including clean, soft/sensitive, whiten, massage or polish. There are three different head shapes to remove stains, deep clean, or clean the tooth enamel and tongue.
Cons:
While it offers many features and options, some people prefer a handle that is either soft or with a non-slip grip. You'll have to be careful holding this one when it's wet so it doesn't slip out of your hands. It doesn't have an accompanying app or pressure indicator, which may be a deal-breaker if you're looking for something that helps you to ensure you're brushing correctly.
Best Rechargeable Brush
The Oral-B 7000 SmartSeries Rechargeable Power Electric Toothbrush is a Best Overall Choice for 'Those Who Want a Rechargeable Toothbrush that Connects to Their Smartphone'.
Pros:
Oral-B has always had a good reputation, so it's no surprise that this toothbrush is approved by the American Dental Association (ADA). It's even made with round brushes like dentists use to clean and polish your teeth. The toothbrush fully charges in 24 hours and stays charged for two weeks at a time, which is great for travel (plus, a travel case is included). It has a Bluetooth connectivity smartphone app that tracks how well you're brushing.
Cons:
The Oral-B app works on both Android and iPhone; however, the iOS version seems to be more reliable. Also, some customers don't like that you can't switch brush modes while the toothbrush is connected to the app. While other electric toothbrushes have a built-in timer, you won't know if you've brushed long enough unless you're connected to the app.
Best Cleaning Modes
Philips Sonicare ProtectiveClean 5100 Rechargeable Electric Toothbrush is designed for those who want to personalize their teeth cleaning experience.
Pros:
The brush head you select automatically syncs to the matching cleaning mode, so you don't have to manually change the settings. There are three modes: clean, whiten, and gum care. This toothbrush also has a built-in two-minute timer, pressure sensor and brush wear tracker. While you're brushing, the toothbrush will pulsate if you're pressing down too hard on your gums. In addition to keeping track of how hard you brush and how long you've been using the same brush head.
Cons:
Although this electric toothbrush syncs to different brush heads, it only comes with one. You'll need to buy replacement brushes, but be sure you purchase the right ones if you want them to sync automatically. You can change brushes to match the desired cleaning mode. If you have very sensitive teeth, the high-intensity vibrations at 31,000 brush strokes per minute may be too uncomfortable.
Best for Kids
NeoCre Kids Rechargeable Sonic Electric Toothbrush will encourage kids to have good tooth brushing habits. The toothbrush is supplied with cartoon stickers that kids can stick onto their toothbrush.
Pros:
It has three cleaning modes, a pressure sensor, a two-minute timer, and a 30-second reminder to change areas of the mouth. The biggest difference is that the toothbrush has Dupont bristles that are softer and safer for children, which are great for encouraging kids to brush their teeth. It's small enough for little hands and mouths, and it's made with fewer vibrations and less noise. It has a wireless charger for safety and lasts up to 25 days.
Cons:
Even though this electric toothbrush is gentle and has a sensitive cleaning mode, it's only recommended for children over three years of age. This toothbrush doesn't have a mobile app that syncs to it like some other brands. For some kids, an app is more effective at getting them to develop good dental habits.
Best Battery life
Vsmile Sonic Electric Toothbrush offers a long battery life for those who are always on the go. It's supplied with replacement brush heads.
Pros:
Charge up this electric toothbrush within twelve hours and you're good to go for up to 80 days. The toothbrush has a USB connection, so you can easily charge it with your computer or your car. If you like to keep a toothbrush at work or some other place you frequent, you won't have to worry about it losing a charge as often as others. This brush is also waterproof, so you can take it with you in the bathtub and shower. It's much less expensive than most other electric toothbrushes.
Cons:
This electric toothbrush is very simple, so it won't give you all of the advanced features found in some other brushes. It does have a smart time, but there's no mobile tracking app. It comes with a USB charging cable rather than a regular plug, so you'll need to use an adapter if you don't plan to plug into a USB device like a laptop or vehicle.
What Really Matters
Rechargeable
Being able to easily recharge your electric toothbrush and have it hold a charge for a reasonable amount of time is an important feature to consider. If you travel a lot, this will be very important because you won't want to be stuck without your toothbrush. Look for units that have a long-lasting charge and travel kits with chargers.
Personalization
When it comes to dental hygiene, everyone's teeth are different. The electric toothbrush you choose should fit your particular needs. Brands and models that offer multiple cleaning modes and brushes allow you to switch things up for yourself or for different users in your household. If you have sensitive teeth, you don't want to end up with a toothbrush that is too powerful and uncomfortable.
Smart Technology
While not everyone is into smartphone technology, it has become a way of life for most. Many electric toothbrushes now come with advanced features such as built-in timers, brush wear alerts, and pressure sensors. A few have their own mobile apps that can help you to develop good habits and fix bad ones. If you're always ready to buy the latest model smartphone, then you might prefer a smarter toothbrush as well.
What's in Right Now?
Electric toothbrushes have been around for quite a long time. However, technology has greatly improved. Rather than oscillating from side to side like the first electric toothbrushes, that latest inventions include ultrasonic wave technology. These high-intensity vibrations are very effective at breaking up plaque to keep your teeth and gums clean and healthy. They're much like the technology dentists have been using for professional teeth cleaning.
To keep electric toothbrushes running, the batteries and charging technology have come a long way, too. Nowadays, you can find electric toothbrushes with long-lasting lithium-ion batteries that can be charged quickly with inductive charging bases. Some models are wireless and can be connected using USB cables. And then there are those that have Bluetooth connectivity, which allows you to sync your toothbrush with a mobile app. With so many advances, it's easy to have good dental hygiene.
Prices
Cheap
The cheapest electric toothbrushes are ones made for kids or simpler ones for adults. They may not come with all of the bells and whistles found in the more expensive ones, but you'll still find that they feature multiple cleaning modes, brush timers, and trackers.
Mid-Range
Mid-range electric toothbrushes cost under $80. These typically feature three cleaning modes, a smart timer, and a pressure sensor. Some come with compact rechargeable travel kits, but they may be sold with only a single brush.
Expensive
The most expensive electric toothbrushes can be around $100 and up. Expect these to have advanced technology such as five to six cleaning modes, UV sanitizers, Bluetooth connectivity, mobile apps, and rechargeable travel kits. Additionally, they often include several replacement brushes.
FAQs
Is an electric toothbrush better than a regular toothbrush?
As long you practice good dental hygiene and regularly see a dentist, you can probably keep your teeth clean with either an electric or disposable toothbrush. However, it has been proven that electric toothbrushes – particularly ultrasonic toothbrushes – are more effective at breaking up and removing plaque. Also, electric toothbrushes require less effort from the user to deliver an effective clean, making them much easier to achieve a deep clean of your teeth.
How do electric toothbrushes work?
Electric toothbrushes emit ultrasonic waves that cause the bristles to vibrate at very high speeds. They can move tens of thousands of times per minute. This breaks down bacteria and plaque that has collected on tooth enamel. Additionally, the motion of the bristles forces tiny bubbles in between the teeth and gums, further removing food particles.
Which electric toothbrush is the best to buy?
There are many types of electric toothbrushes on the market. The one to choose comes down to the condition of your teeth and personal preferences. It's best to pick one that has cleaning modes and brush heads that match the needs of your particular teeth and gums. If you have gum disease, consider those with sensitive settings and soft bristles. In addition, you'll want to choose those that fit your lifestyle. If you travel often, find one that's easy to charge and comes with a carrying case. If you use your cell phone all the time, then maybe you'd prefer one with its own mobile app.
How often should I change my toothbrush head?
Dentists recommend you change your manual toothbrush or electric toothbrush head every 3 months. If you purchase an electric toothbrush with smart technology, it may have an in-built feature that alerts you when it's time to replace the head so you don't forget. It's important to change your toothbrush head regularly as the bristles become less effective over time. A fresh toothbrush head will also not carry the same level of bacteria compared to an older one.
What other tools can help keep my mouth healthy?
Aside from brushing your teeth with a fluoride toothpaste twice a day, there are some other steps you can take to improve your oral hygiene. A simple tip is to floss as this helps remove build-up between your teeth that your toothbrush can't always reach. Floss can either be a physical piece of string or a water-based one that looks similar to an electric toothbrush. Mouthwash can also help keep your mouth feeling fresher for longer. There is also a device called a tongue cleaner (such as Orabrush) that can remove bacteria from your tongue. However, some electric toothbrushes also have a cleaning option for your tongue. It's also important to visit your dentist or hygienist regularly for checkups.
What food or drink should I avoid to keep my mouth healthy?
Avoid sugar-laden food or drink such as soda or candy, as the high sugar content can ruin your enamel causing cavities. Also, don't eat or drink too much acidic food as this can also weaken your enamel. An example is lemon juice, as although it is a popular nutritional beverage, it can damage your teeth when consumed in excess.
Why Trust Us
Since 2007, TotalBeauty has been committed to helping millions of people find the right makeup, skincare, and haircare products for their needs. Our experts know what works best for every face shape, skin type, hair type, and more. They are here to share that knowledge with everyone looking to upgrade their beauty routines or try something new.