5 Best Electric Razors for 2020 – Total Beauty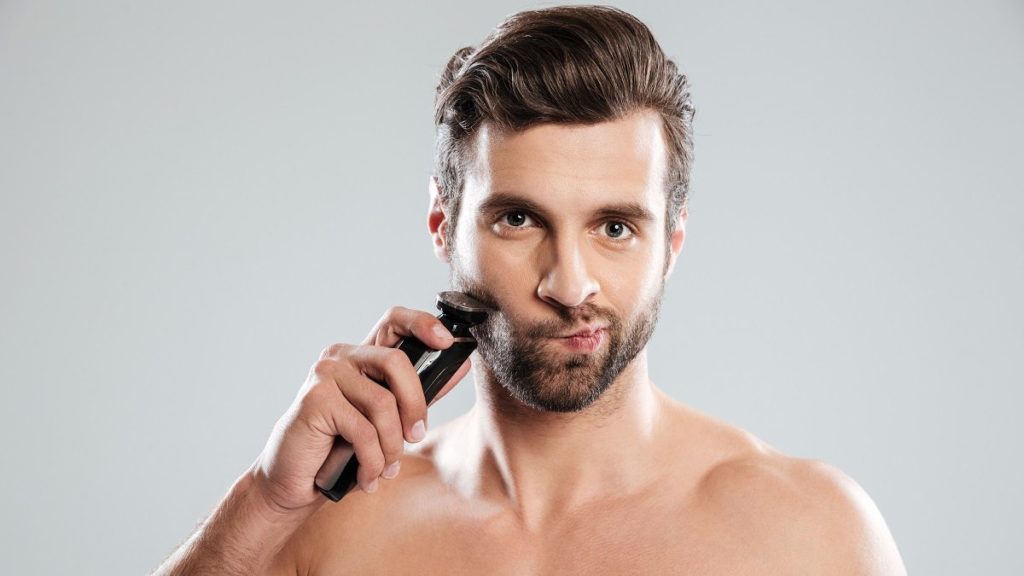 Whether you are looking for an electric razor for multi-purpose use or for specific personal grooming, it is important that you purchase the right razor for your needs. Keeping on top of unwanted body hair or shaving your own head needn't be a chore; selecting the best electric razor can make shaving a quick and easy task while maintaining healthy, smooth skin. To ensure that you choose the right product for your individual needs, we've compiled a list of the best electric razors to help you make a confident and informed choice.
Best Choice
The Braun Series 7 is ideal for anyone looking for a precisely close shave. It also features intelligent technology that automatically increases power for difficult areas or for dense hair.
Pros:
The Braun Series 7 electric razor features OptiFoil to trim hair to 0.05mm for the smoothest shaving results. With intelligent technology, it automatically increases power for dense hair, ensuring a powerful yet gentle shave every day without causing sore or raised skin. Cleaning is simple: Use the Clean and Charge station to automatically lubricate and charge. If you're looking for an electric razor that has it all, the Braun Series 7 is for you.
Cons:
As you might expect with a high-end product, the foils and cleaning solution can seem a little expensive when the time comes to replace them. If you are hoping to only invest once, this may not be the right product for you.
Best for Head Shaving
The Andis Professional Trimmer is an ideal choice for outlining, dry-shaving, and fading for the head or beard. With precision T-blade trimmers, you can be sure of a crisp, even outline or trim.
Pros:
The Andis Professional Trimmer is popular for its close-cutting, carbon-steel T-blade that allows for precision shaving of your head. The blade ensures even shaving all over and crisp outlines. If you want to fade your hair or dry-shave at home, the trimmer ensures salon-worthy results. The trimmer is also ideal for precision work on beards and mustaches. The contoured housing is designed to fit comfortably in your hand, which makes this the ideal choice for keeping up a sharp appearance.
Cons:
The trimmer can seem a little loud during use. If you are averse to loud buzzing, or prefer a very quiet trimmer, this may not be the right product for you. The trimmer can get warm when in use, but a cooling gel is available if this is something that would bother you.
Best Everyday
The Philips Norelco offers and easy shave at an affordable price. It has four-direction flex heads that allow it to follow the contours of your face for a great result on shaving your beard every day.
Pros:
For everyday shaving, you want an electric razor that does the job with great results and no fuss. The Norelco offers flex-heads that automatically adjust to the shape of your face and neck, giving you a smooth shave every day. The close-cut blades self-sharpen, meaning you can always rely on a fast and close shave. It can be easily cleaned by running it under the tap, and each charge lasts for approximately fourteen shaves. This is a great choice for a razor that is reliable and easy to use.
Cons:
The Norelco cannot be used while it is charging; it can only be used when charged and cordless. The charge lasts for around 35 minutes (or fourteenshaves), but if you are likely to forget to plug the razor in, this may cause some frustration.
Best for Ladies
The Schick Hydro Silk Moisturizing Razor is the ideal choice for women looking to take care of all shaving requirements. It features both a razor and a bikini trimmer for smooth, moisturized skin.
Pros:
With a hydrating razor and waterproof bikini trimmer, there's no need for multiple razors in your bathroom. The moisturizing serum replenishes the skin's natural moisture after shaving, leaving you with healthy skin even in intimate areas. The curve-sensing blade prevents skin irritation and provides ultimate closeness. The adjustable comb gives four trim lengths with a clean look and feel. This is the ideal electric razor for a woman's every need, including her legs, armpits, and bikini area.
Cons:
This electric razor is battery-operated rather than being charged at the mains. If your preference is for a razor that you can plug in to charge, you might be disappointed by this element of the Schick moisturizing razor.
Best 3-in-1 Razor
The AUCEE Electric Razor for women is a rechargeable, pain-free razor that boasts many shaving functions, as well as a facial cleansing brush. It is ideal if you are looking for a multi-purpose razor.
Pros:
The AUCEEElectric Razor gives a close, smooth shave for your underarms, legs and bikini area, and can be used in both wet and dry conditions. It is both cordless and rechargeable, and the hypoallergenic blades ensure irritation-free shaving. It also features a facial cleansing brush and facial massager, allowing you to get rid of unwanted facial hair. Its wide variety of features makes this razor a delight for any woman to own.
Cons:
Although the razor comes with a USB cable for charging, you will need to purchase a charging block or plug separately to recharge it from the mains. It comes with all the attachments required for its multiple purposes, which you may find annoying if you only intend to use it as a razor, or if you do not like clutter.
What Really Matters
An Even Shave
An electric razor is no good unless it gives an accurate, even shave across all the contours of your skin every time you use it. It is important to choose an electric razor that provides a consistently good shave without missed hairs or leaving hair at an uneven length. If you are looking for a smooth shave, selecting an electric razor that will remove even the shortest hairs will be required to give you the hair-free, soft-skinned look you require. If you plan to use the razor in difficult or sensitive areas, including the face or bikini area, ensure you choose an electric razor designed to adapt to the natural shape of your body.
Irritation-Free Shaving
We've all been affected by shaving rashes or sore, irritated skin after shaving. Choosing an electric razor that contains hypoallergenic blades or is proven to be gentle to your skin will help to reduce the risk of irritation. Razors that use smart or intelligent technology can help by automatically adjusting the power depending on how coarse the skin is in the area being shaved. If your skin is already sensitive, choosing an electric razor with a moisturizing serum can help to replace the skin's natural moisture after shaving. Ensuring that your skin remains healthy and free of irritation is of paramount importance for your comfort and dermatological health.
Multiple Functions
Many of us will use our electric razors every day, and so it is likely that you will want your razor to serve a variety of purposes. For men, you might be looking for an electric razor that you can use for shaving or shaping your beard or moustache, while also being able to use it to shave or fade your head hair. For women, it may be important that your electric razor can be used on your legs and underarms and also has an attachment that makes it suitable for use on the bikini area. An electric razor that meets your every need means you can say goodbye to filling your bathroom cupboard with multiple products. Experience a streamlined product that can be used for everything.
What's in Right Now?
Personal grooming has never been such an important part of daily life, and the maintenance of body hair is something that can be important to both men and women. Like many products, smart technology has been introduced in the most advanced electric razors, allowing a shave that is personal to your own body shape and hair pattern. Electric razors that allow for various length settings are also popular for allowing you to select from a neat trim to a close, smooth shave depending on your personal taste.
Like most items in our households, an electric razor should be aesthetically pleasing and fit with the style of your bathroom. From discreet, small razors that blend with your other products, to stylish larger razors that make a statement, the aesthetics of your electric razor should suit your individual style and taste to ensure you own a product you want to use time and again. Electric razors with multiple functions are a popular way of ensuring a minimalistic look in your bathroom, and of course, do not take up as much space.
Prices
Expensive
$100-$200 for a high-end, multi-function razor with intelligent technology.
Mid-Range
$50-$100 for a professional product with various blades, shaving or trimming functions.
Cheap
$10-$50 for a product with fundamental features and attachment options for shaving.
FAQs
I have sensitive skin. What should I look for in an electric razor?
Shaving can cause mild to moderate skin irritation if the razor you use is not suited to your skin. To find a razor that will not irritate, look for products that contain a moisturizing strip or use a moisturizing serum to lock moisture into the skin after shaving. Electric razors that use intelligent technology can be trusted to adjust power in sensitive or difficult areas, meaning that the skin is less likely to suffer from micro-abrasions due to shaving. Electric razors that allow you to adjust the length of your trim can also help to prevent skin soreness by preventing the blades from coming too close to your skin.
I will be traveling. Is there an electric razor that I could take with me on my trip?
If you are planning to take an electric razor abroad, you will most likely want to consider a compact razor that will meet all of your shaving requirements. A small, multi-purpose razor will take up little space in your suitcase and allow you to take care of all personal grooming while you are away. You may prefer to choose a battery-operated razor and take a set of fresh batteries with you. Or, if you know that you will have access to a charging point, a mains charging razor will meet your needs. Be sure to pack your razor in your checked baggage to avoid issues at the airport.
Is there an electric razor that will give me salon results at home?
By shaving your body, head, or facial hair at home, you can save a significant amount of money on salon fees and save time in attending appointments. Salon results are possible at home with the right electric razor. For precision trimming, look for products that contain close-cutting blades or additional tools that allow you to shape facial and other hair at home. If you are looking to shave your head at home, products that provide an overall shave while allowing you to blend or fade your hair will give the most professional-looking shave. For women looking to remove leg or underarm hair, choose an electric razor that gives a smooth, close shave to get results as good as the salon.
I don't like clutter in the bathroom but want a multi-purpose razor. What should I look for?
Many razors now have multiple functions that allow them to be used for trimming, styling and even exfoliating. These functions can require multiple heads or tool attachments for each purpose, but some razors manage to combine all functions into one handheld device. Dual-ended razors can serve multiple functions, and different heads can be concealed within each other. If you have limited space, or don't want to store various attachments, finding a razor with a clever design function will give you the performance you require without the clutter.
What else can an electric razor do?
Buying an electric razor can be an investment, and their functions range from a simple shave to complex intelligent technology with multiple functions. Many electric razors come with additional attachments or functions for trimming, shaving and shaping hair. Some razors include an epilator function, and others may include specific tools for certain body areas including eyebrows, mustaches, or the bikini area. For the ultimate in luxury, some electric razors come with facial massage attachments or facial brushes for exfoliation.
Why Trust Us
Since 2007, TotalBeauty has been committed to helping millions of people find the right makeup, skincare, and haircare products for their needs. Our experts know what works best for every face shape, skin type, hair type, and more. They are here to share that knowledge with everyone looking to upgrade their beauty routines or try something new.