The Best Dry Brushing Body Brushes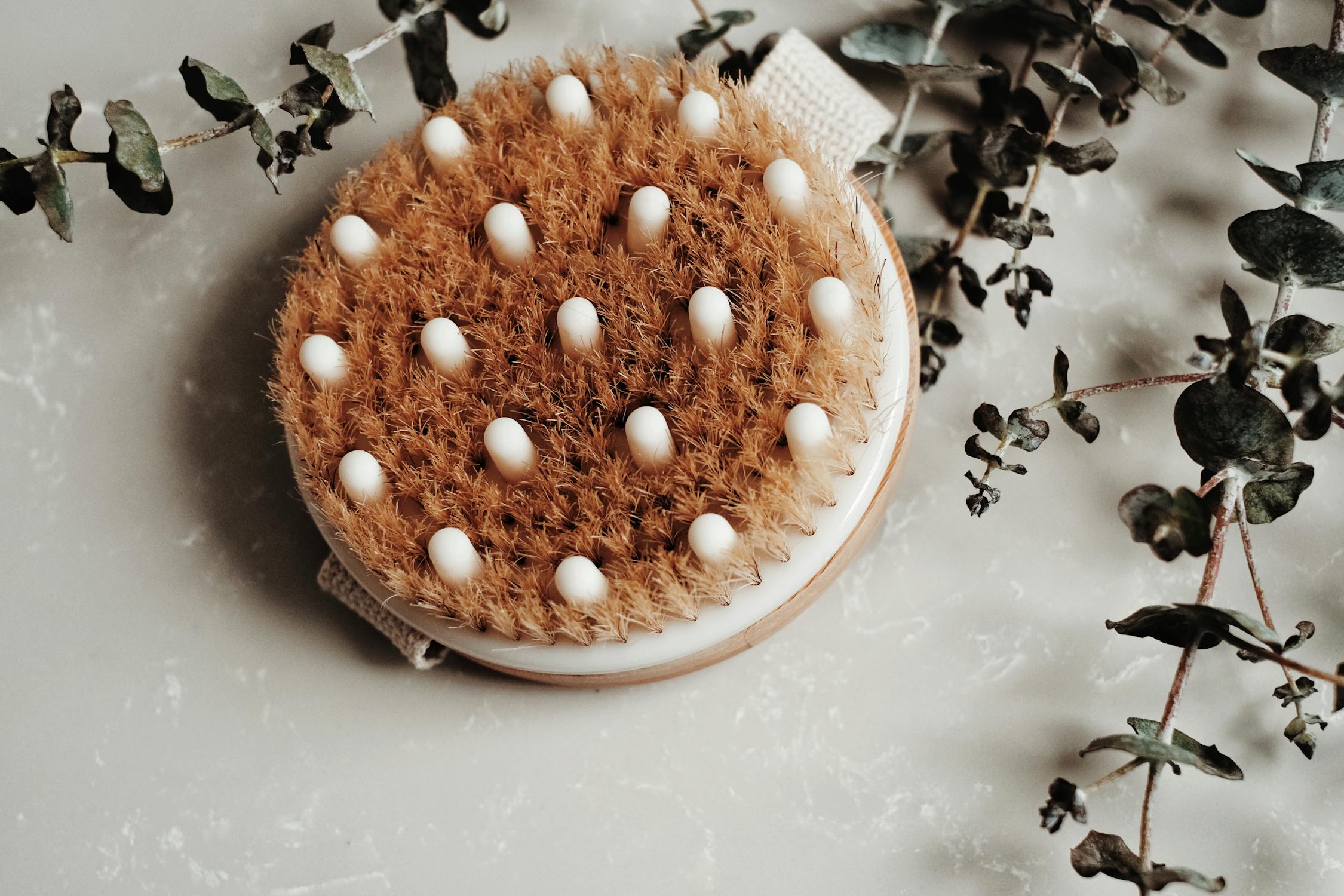 What if we told you that there was a way you could promote blood circulation, remove dead skin cells, reduce cellulite, support the lymphatic system, and more? Welcome to the world of dry brushing body brushes. This spa-worthy self-care tool is an absolute must-have for every bathroom collection. There's no water or fancy products needed to utilize the natural power of dry brushing; simply grab your brush and make small circular motions over your skin for a smoother, softer feel.
What to Look For
Finding the perfect body brush for dry brushing can be tricky, as there are so many options to choose from. We've got your back, pun intended, with a list of our favorite dry brushes. Our criteria for the best picks were durability, price, and size. For those who travel often, we love C.S.M.'s body brush for its compact size that can fit into virtually any suitcase pocket. As for durability, MainBasics' dual-sided brush takes the cake with its damage-resistant handle that can stand up to repeated use. However, price-wise, it's hard to beat the EcoTools dry brush for its affordable yet high-quality design. Check out our other favorite products by reading below.
Metene Shower Soft and Stiff Dry Brush
This dual-sided brush is made with natural, strong boar bristles for ultimate exfoliation and circulation promotion.
Achieve soft, supple skin with this two-sided stiff and soft brush by Metene. Brush away dead skin cells on tough or dry spots by circulating the stiff side of your dry brush against your skin while simultaneously promoting circulation and reducing cellulite. Follow up by flipping your brush over to hit the more sensitive areas with the soft bristles for an even, gentle exfoliation. Get a good grip with the anti-slip, wooden handle that reaches up to 40 cm for even the hardest to reach spots.
Pros:
Even with arthritis, this brush is easy and comfortable to hold.
This product includes a complementary hook to hang your brush on for easy storage.
Cons:
The stiff bristles side is quite stiff indeed and may be too harsh on sensitive skin.
MainBasics Dual-Sided Dry Body Brush
This sturdy wooden dry body brush boasts a superior anti-slip grip.
No more struggling to hit that spot that you can never seem to reach with this dual-sided body brush's 17-inch-long handle. This brush smoothes and brightens skin for a young, vibrant look and feel from your head to your toes. A stiff-bristled side and a soft-bristled side make for the dry brush of your dreams. Evenly remove dead skin cells with the stiff side, then lather up with the soft bristles for a gentle exfoliation all over. You can count on this brush to keep it together with its water damage-resistant design even after a long soak in the tub.
Pros:
For pregnant users, this product is perfect for hitting those just-out-of-reach spots.
The anti-slip handle lives up to its name even when covered in soapy suds.
Cons:
This brush's handle is a bit heavy as it is solid wood.
C.S.M. Body Brush for Wet or Dry Brushing
Greet the world with happy, radiant skin when you pack this travel-size, solid wood dry body brush.
Bring the spa with you from one side of the globe to the other with this dry brush by C.S.M. The circular shape and compact size allow for easy packing without taking up space or adding bulk to your suitcase. Although this product is small enough for on-the-go use, its quality is not compromised. Soothe your skin with an exfoliating dry bristle made from natural boar hair while relaxing your muscles with embedded round, plastic massage nodes. Taking care of your body should be simple and enjoyable, no matter where you are.
Pros:
This brush retains its bristles and stays like new through months of daily use.
Even on tough, years-old cellulite and scarring, this brush's work is highly evident.
Cons:
When first using this dry brush, a few bristles may fall out.
Popchose Dry Brushing Body Brush
Hit all those hard-to-reach spots comfortably with this brush's flexible hand strap.
Transform your hand into a natural exfoliant with this handheld, boar bristle dry brush. The oval shape of this brush allows for a comfortable, formfitting grip for ultimate control when using this tool. Scrub as hard as necessary without losing your hold, thanks to the strong and flexible cotton strap. Your skin will be happy for years when you choose this dry brush, as its solid wooden base and high-quality strong bristles are damage resistant no matter how much use it gets.
Pros:
This product includes a free hanger for easy brush storage between uses.
Ingrown hairs are significantly less likely after using this brush daily for even just one week.
Cons:
Be sure to use this brush in the tub or over a towel with the first use for easy cleanup, as a few bristles may fall out initially.
EcoTools Dry Brush Scrubber
Save some green with this tree-free, eco-friendly design made with renewable bamboo.
If you're looking for an eco-friendly product that doesn't cost an arm and a leg, we highly recommend this product by EcoTools. This handheld dry body brush is made with renewable bamboo for a tree-free, durable base, with synthetic bristles for a vegan and cruelty-free design. With a built-in handle for a comfortable grip, you'll use this tool every day to keep dry skin and cellulite at bay for a wallet-approved cost.
Pros:
Through even the driest, coldest months, this brush keeps skin looking ready to hit the beach.
This brush can be lathered up with body soap for a loofah-like effect without being damaged by the water.
Cons:
These bristles are quite coarse and may be too scratchy for those with sensitive skin.
Frequently Asked Questions
How often should I dry brush?
To achieve the best results, we recommend using your dry brush once or twice daily. The best time to use a dry brush is right before you shower since it primes your skin for cleaning by removing the dead skin cells and promoting healthy blood circulation. Using this tool every day will ensure your skin remains as soft and smooth as possible.
Is it okay to dry brush if I have sensitive skin?
Depending on your skin type, you may want to take caution when using a dry brush. If you have sensitive skin, we recommend trying a soft-bristled dry brush to see if your skin will react well to it or not. For those who suffer from skin irritation disorders like eczema or psoriasis, it is recommended to check with your doctor first before using a dry brush.
About the Author
Why Trust Us
Since 2007, TotalBeauty has been committed to helping millions of people find the right makeup, skincare, and haircare products for their needs. Our experts know what works best for every face shape, skin type, hair type, and more. They are here to share that knowledge with everyone looking to upgrade their beauty routines or try something new.