5 Best Cream Blushes for 2020 – Cream Blush Reviews – Total Beauty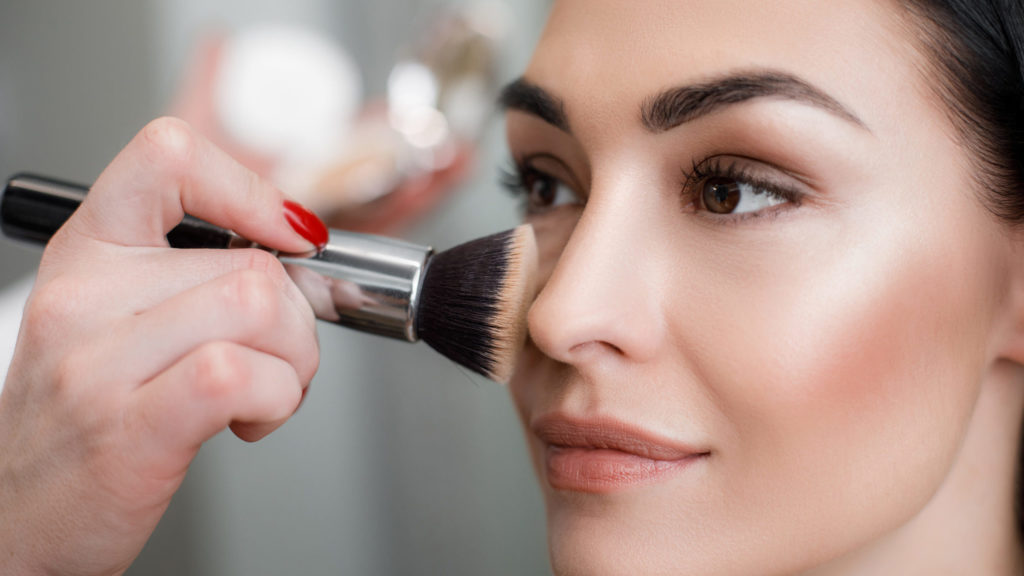 Cream blush is a flattering alternative to traditional powder blush. The formula melts into the skin giving a more natural look, especially as it has a similar finish to liquid foundation. Cream blush can be blended with the fingertips and doesn't need a brush to apply, especially when in stick form. Another advantage is that cream blush doesn't crumble or smash as powder blush can. When the right shade is picked, cream blush can add a subtle glow to your complexion. Here are our top cream blush picks.
Best Choice
A multi-purpose beauty stick from Han Skincare Cosmetics can be used either as a cream blush or a lip tint. Rose Berry is one of 8 shades available in the range.
Pros:
The stick formula makes it easy to roll up and use without needing additional tools. Equally, the packaging is secure, so it is ideal for travel as the contents won't leak. There is a wide range of shades available. Rose berry, in particular, would suit both medium and deeper skin tones and would be equally flattering as a lip color. Han Skincare Cosmetics is an all-natural company and does not test on animals. The formula is packed with antioxidants, including acai oil, pomegranate, and blueberry.
Cons:
Tricky to fault as it ticks all the right boxes. The key to ultimate product satisfaction is to take time selecting your shade as cream blush needs to appear like a natural flush rather than a bright pop of color. For example, Rose Berry isn't going to work on super pale skin tones, but there are other shades available.
Best Lightweight Formula
A creme blusher in the shade Peony Pink by Honest Beauty, which is a cosmetics brand founded by Jessica Alba.
Pros:
The Honest Beauty creme blush has a lightweight formula that melts seamlessly into the skin. For those who want a healthy radiance without looking like they are wearing heavy makeup, it's one to try. Peony Pink is a soft coral and would work beautifully on almost every skin tone. The packaging is very sleek and has a mirror for precise application or touch-ups on the go. The product has been dermatologist tested and is also hypoallergenic.
Cons:
The product does require a sponge or a brush to apply, which is a similar format to regular powder blushers. The packaging is beautiful but would be more environmentally-friendly if the pan could be refilled once depleted.
For A Contoured Look
Drugstore brand Revlon has a cream blush stick available in 3 different shades. 'Berry Kiss' is, in fact, a deep terracotta shade.
Pros:
Revlon is well-loved for its affordable yet good quality cosmetic products. Their cream blusher is a twist-up stick that can also be used as a contour depending on your skin tone. The thinness of the applicator allows for precise distribution of the product. It aids in the sculpting of the cheekbones as the sharp line is what creates the definition. The formula is lightweight and blendable to give cheeks a light flush with two other shades available for deeper and paler skin tones.
Cons:
It's slightly confusing to call a product a cream blush, which is intended for contour, as both blush and contour require very different colors to be used. The shade is also called 'Berry Kiss' but doesn't have any pink or purple undertones to it.
For Cheeks And Lips
The Stila Convertible Color Lip and Cheek Cream has been formulated as a multi-purpose beauty product for the face. Our top pick is the shade Lillium.
Pros:
Stila is a high-end makeup brand, and as such, the cream blush is of a higher quality than you'd find in a drugstore. Lillium is a terracotta shade with a slight pink undertone. As a result, it works well on lips and cheeks without looking too 'orangey.' The packaging is the same tone as the shade you buy, which is handy if you own lots of beauty products, or if you're a makeup artist. The dual-purpose element makes it an excellent value for money.
Cons:
The formula contains quite a few synthetic ingredients as well as derivatives from palm oil. The shelf life is only six months, which is quite short for a beauty product, however, as it's intended for lips and cheeks that could be the reason behind the limit due to the bacteria build-up being quicker with a multi-use product.
For A Natural Look
The Maybelline Cheek Heat Gel-Cream Blush consists of a liquid formula. It works by dotting the product along the cheekbones and gently blending in with your fingertips.
Pros:
The gel liquid formula aids with the product melting into the skin because half of the work is already done for you, compared with a solid product that requires lots of blending. Rose Flush is a natural pink tone shade making it ideal for 'no makeup' looks. The product is free from oil, which makes it suitable for blemish-prone skin types. Maybelline, as a brand, is one of the cheapest you can find in the drugstore, making them very budget-friendly.
Cons:
There's no applicator to distribute the product as the intention is for the user to dot along the cheekbones. For those who don't own tools this could be a hassle.
What Really Matters
A natural look
One of the top reasons people opt for a cream blush is for the natural finish it gives. Compared with powder, liquid blends into the skin much easier, giving a subtle finish. Cream blush can either have a robust and concentrated pigment or be quite translucent. Either formulation is workable, but it's all about playing with the product to make it work in the best way for you. For example, a concentrated product means you need less of it to make an impact, although a downside is a product that will require more blending, especially for a natural look.
A flattering shade
The golden rule with blush is to opt for a color that's very close to the color you naturally flush too. The reason for this is because blush isn't supposed to be extreme, instead to add some color into the cheeks gently. When applying foundation, our natural flush is masked under product, so blush acts as the replacement. Without any blush, the face can either appear very flat or, in some cases, unhealthy. Picking a flattering shade is all about going on your natural coloring, rather than choosing the color you most like as is the case with nail polish or other cosmetics. For best practice, swatch blush colors on your hand and hold this up to your face in natural light. That way, you can find the color that's most flattering for your complexion.
Easy application
As with any makeup product, if the application is messy or requires a lot of tools, then it isn't user-friendly. As blush is the last step over foundation, if it's too pigmented or ruins your existing look, then you may have to start again. Ideally, your cream blush should have a light to medium pigment, a buttery texture, so that it smoothly glides on the skin and convenient applicator to ensure easy application.
What's in right now?
The 'no-makeup makeup' look is a huge trend. While Instagram has us believing we need heavy makeup to look 'flawless,' busy moms and working professionals simply don't have time for this. They need a quick, go-to makeup look and are in search of minimal products that allow them to do their morning routine at speed. That's why cream blush works so well because it adds a light pop of color and can be worn even without foundation or concealer.
Prices
Cheap
Inexpensive cream blush can be bought from the drugstore for $5. Typically, cheaper cream blush has a limited color choice though it is still ideal if you're on a budget.
Mid-range
The average price for cream blush is $15. It's possible to find many different formulas at this price, including cream, liquid, and multi-use blush. Some lip products will also state they can be used on the cheek, so it's worth checking these out too.
Expensive
Cream blush made by high-end brands retails at $40 and above. An example is one made by Charlotte Tilbury or Nars. It's also possible to find professional cream blush palettes used by makeup artists that retail at $200 and above.
FAQ's
What are the benefits of using a cream blush over a powder one?
Typically powder blush is used over liquid products. The difference in textures can look quite noticeable, and powder doesn't blend as seamlessly over liquid products either. When you apply powder blush, tiny particles are being lost as you tap the brush off. Powder also breaks up easily and can even fall out of the pan. Both of those reasons make powder blush messy as well as less value for money. That's because, with a cream blush, you can control the application and only use what is needed without wasting any.
In general, powder blush is considered more flattering to use, especially on mature skin. The reason comes down to how the product melts into the skin when it comes into contact with warmth. In contrast, the powder will sit exactly where placed. In the 80s, the style was to sweep powder blush up high onto the cheekbones, which again can look quite aging. Cream blush simply goes on the apples of the cheeks to give a light flush rather than an intense look.
Do I need a brush to apply cream blush?
Some cream blushers have an applicator built-in. If the product consistency is quite runny or the product is in a pan, then you'll need a tool to apply and blend the blush. Common tools include a makeup sponge or blusher brush. As the product is a cream and most makeup products are made from powder, it's a good idea to have a separate tool to apply your cream blush.
Another top tip is if you find your blush is too strong, you can go in with the tool you applied your foundation with to softly blend it out.
How can I stop my cream blush from wearing off throughout the day?
When the skin is dehydrated, it will absorb the water from our makeup products and leave behind the pigment. If you are noticing this happens with your blusher and the rest of your makeup, it's likely your skin is dehydrated. To remedy this, you need to switch up your skincare to ensure your skin is deeply hydrated. Avoiding harsh cleansers that strip the skin of moisture is key. Hyaluronic acid in a serum underneath your moisturizer can also help.
If the problem of your blush disappearing is localized just to blush and everything else remains intact, either you haven't applied enough product, or the formula is too weak. Applying your makeup in natural light will give you an accurate view of how it looks. The color needs to be visible so that it looks natural without looking forced. There needs to be an even distribution on the apples of your cheeks, making sure you apply the same amount of product on both sides of the face.
Can cream blush be worn on its own?
Absolutely and that's one of the top benefits of wearing cream blush in the first place. If you already have great skin and don't want to cover it with a heavy foundation, a drop of cream blush on the cheeks can look very flattering. When blended well, it seems as if you aren't wearing any makeup. Given some cream blushers are also multi-purpose, you might be able just to use one product on the whole face.
Why Trust Us
Since 2007, TotalBeauty has been committed to helping millions of people find the right makeup, skincare, and haircare products for their needs. Our experts know what works best for every face shape, skin type, hair type, and more. They are here to share that knowledge with everyone looking to upgrade their beauty routines or try something new.