5 Best Clarifying Shampoos for 2020 – Clarifying Shampoo Reviews – Total Beauty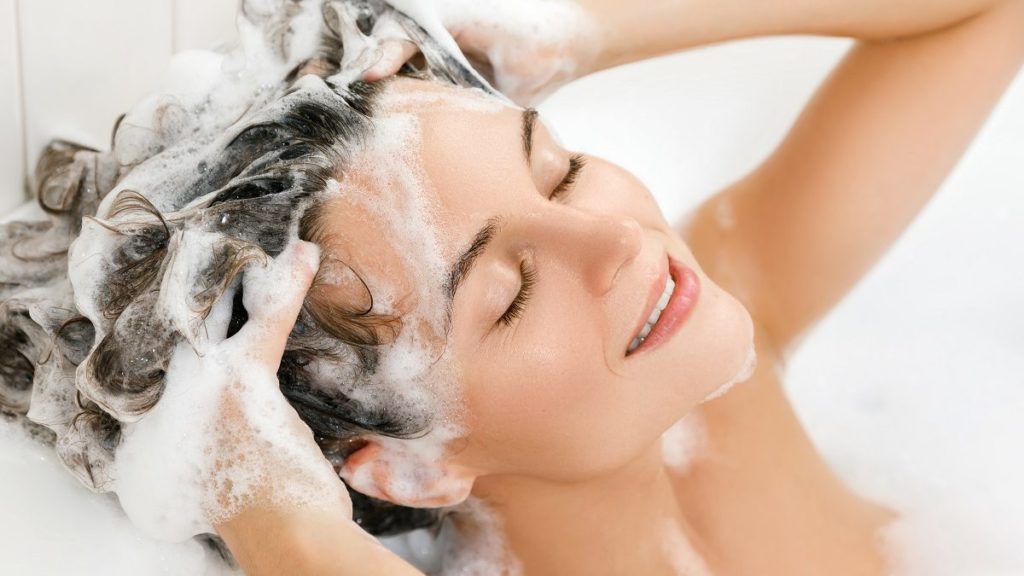 Got some gunk going on in your hair? If your tap has water deposits, you can quickly get buildup just from cleansing with a regular shampoo - not to consider what happens when styling products are applied, too. So if your mane feels weighed down and is difficult to style, it could be an excellent time to try a clarifying shampoo. Here you will find the best varieties and best values, plus some extra information to help guide you on your search for perfectly fresh hair. Have a look!
Best Choice
The Paul Mitchell Shampoo Two does not just contain higher amounts of sulfates to strip away buildup. It uses a proprietary formula of multiple ingredients that get the job done without overdrying.
Pros:
This product does a great job at stripping product residues and natural oils, for which reason it is best to use it once a week maximum, unless your tresses are overly oily, in which case twice a week. Because hair is not weighed down by buildup after using Paul Mitchelle Shampoo Two, your mane will not only feel lighter but fuller. It has a citrusy, lemon scent. This formula encourages water deposits to slide off while shampooing instead of sticking to your strands.
Cons:
This product has a low lather. It cleans well, but do not expect a lot of sudsing action. Some users complain the fragrance is close to that of citrus cleaning products. The bottle tends to leak in transit, which users suggest could be fixed with a seal.
Best for colored hair
The Kenra Clarifying Shampoo whisks away buildup and helps keep your new balayage fresh without dulling the color.
Pros:
There is no need to shampoo twice to remove product residue with this clarifier. A highly praised brand, those who are fans of Kenra, will also consider their clarifying shampoo fantastic. It is a thick, luxurious shampoo that takes care of business without stripping and drying. It is similar to a shampoo-conditioner in one product as it leaves the hair very soft and moisturized after washing. Your hair strands become shining and lustrous with Kenra Clarifying Shampoo.
Cons:
This brand has changed fragrances. So if you are expecting a grapefruit scent, the smell is much sweeter. But it looks cute with the mica glitter, which is part of what helps your hair shine after washing.
Ideal for Dry Hair
The ArtNaturals Organic Moroccan Argan Oil Shampoo and Conditioner Set gently removes buildup in a highly nourishing formula.
Pros:
ArtNaturals contains an excellent blend of non-sulfate cleansers that strip product buildup. Not being a clarifying shampoo by name, it stands in place of a clarifying shampoo by aiding those who suffer from harsh water deposits in tap water and wells. It contains oils that improve overall quality and shine, like argan, jojoba, peach kernel, almond, and camellia – all of which buffer the stripping properties of the shampoo. Not much shampoo is needed to get the hair clean.
Cons:
It is a little expensive, but a rich conditioner is included, which makes the pair more economical. Using the two together, you can wash and condition once a week only. It is not labeled as a clarifying shampoo but has similar properties.
Ideal for Oily Hair
The Neutrogena Anti-Residue Formula Shampoo is going to get all gunk and oil out of your hair - period.
Pros:
Neutrogena Anti-Residue is bent on getting every last particle of the residue out of your strands, even if it has been there for years. Then it boosts the shine. This formula uses multiple sulfate-based cleansers in high concentrations, so there are no worries about whether it will get the job done, and it has lots of lather. Some say it is great to use for calrifying hair prior to chemical salon treatments. It's great at cleaning out extra sebum. It smells like Neutrogena Rainbath gel.
Cons:
With all the stripping properties of this shampoo, it is pretty evident that it is also going to dry your hair out. A conditioner is necessary after using this brand. Also, it looks like a cheap buy, but keep in mind you are only getting a six-ounce bottle. Some use it to strip color, so using this product with a dye-job probably is not the best idea.
Best for Curly Hair
Other formulas rely on the straightness of the hair to rinse buildup out easier. The Saragan Activated Charcoal Shampoo uses a double-action system to get into every nook and cranny of curls.

Pros:
The activated charcoal in this formula spreads over the entire surface of the hair using sudsy, sulfate-free ingredients. It helps unclog follicles and stop itching. It also contains oils to ease out residue and provide your tresses with an excellent level of nutrition even after washing. With argan, avocado, coconut, camellia, castor, jojoba and almond oils, and botanical keratin thrown in, it would not be an exaggeration to call this a shampoo conditioner as well.
Cons:
The stripping action is effective, but not intense, so this shampoo can be used daily on very oily hair if desired. The charcoal tends to stain towels and grout. It uses low-level suds that, with the charcoal, can be difficult to work through very thick strands. Buyers report some leakage during transit.
What Really Matters
How your hair will feel after using a clarifying shampoo
How the shampoo leaves your hair feeling is what matters. If the clarifying shampoo is too harsh, it will leave the cuticle standing. A raised cuticle could cause breakage, especially while the strands are still wet. Ideally, the shampoo will not leave a film to make the cuticle lie flat, but this defeats the purpose of a clarifying shampoo. Instead, an ideal product will smooth your hair down and leave it frizz-free, smooth, and ready for layering other products on top of it. The perfect outcome of a product takes great knowledge of the science of formulation. So if it is essential to you that the shampoo itself does not leave a film, look for a long-standing, proven brand.
Using styling products and leave-in conditioner as directed
Using more product than recommended on the label, or using it more frequently than needed without washing out can quickly cause a sort of waterproof residue. Residue builds up quickly when using leave-in conditioners, gels and curl products.
You might be used to applying these products with a heavy hand, but try to use only as much as suggested by the manufacturer. You might find the product works better that way, and it will undoubtedly cause less buildup.
Whether you are using a clarifying shampoo with hard water
Whenever your hair is exposed to water, it is almost inevitable that water deposits get left in your strands after washing. If your hair gets wet while swimming, the residues are chlorine or salt. At home, you are exposed to whatever water deposits some out of the tap – like chlorine, fluorine, and even rust from old pipes – even after washing. If this is the case, you might need to prepare yourself to use clarifying shampoo twice a week instead of once. That means having rich and moisturizing conditioners on hand because clarifying shampoo is stripping and therefore drying.
What's in right now
Clarifying shampoo for us with hard water is one of the most popular products right now. The quality of water varies greatly, but many people find that ordinary shampoo and even some clarifying shampoos do not remove all of the deposits that are left by hard water. What is worse than buying a relatively expensive shampoo but still not being able to get out all of the buildups?
Prices
Expensive
$25 – $50 – Formulas that are made specifically for color-treated tresses are in this category and some all-natural formulas as well. You will also find double-duty products here, like those that provide intense moisture and others that help with dandruff.
Mid-range
$15- $25 – Products in this category contain feature ingredients – like shea butter, tea tree oil, or sage – that nourish your mane and help tame itchy scalp and remove build-up related dandruff.
Cheap
$5 – $10 – In this category are the clarifying shampoos with chemical components added that strip buildup off the strands. Added chemicals can be extra sulfates, but a good composition uses a synchronistic formula. At times these products contain nourishing ingredients as well.
FAQs
How often should I use a clarifying shampoo?
Clarifying shampoo should be used twice a week at the most, and once a month at the least, depending on your current routine. In other words, for every four washes, one should be a clarifying wash. If you can wait to do one clarifying wash per every six regular washes, it might be better if you have hair that already tends towards dryness. Do not forget, clarifying shampoos work by stripping all the oils from your hair.
If you have oily hair, it is important not to overuse clarifying shampoos. Your scalp needs balance. It could react by producing even more oil if you try to dry it out too much. Many people reach for a clarifying shampoo to use regularly for oily tresses instead of using normal shampoos. Because the misapplication of clarifying shampoos for oily hair is so widespread, brands began adding ingredients to help normalize the scalp to help those who have extra sebum production.
Must one buy a clarifying shampoo based on hair type?
It is best to buy according to hair type because clarifying shampoos are made to address different needs. If you have a dry mane, a clarifying shampoo made to counter oil could damage your hair and scalp because they will probably contain higher quantities of sulfates. Dry hair will require a shampoo with gentler substances like charcoal or vinegar, that strip without drying too much.
Colored strands can easily have a dye-job stripped right now out of them by using a clarifying shampoo that was not made for tinted hair. A clarifying shampoo made for colored hair will remove buildup, but not your new, expensive balayage.
What makes a clarifying shampoo different from a normal one?
Clarifying shampoos were made to remove water residues and product buildup. Together, these can be super tough combinations to get out of your hair. Regular shampoo is rarely effective in the face of gunk like this. Over time, residues will dull, resistant to styling, and in general, cause lots of bad hair days.
The buildup also causes water-resistance when there is a lot of it. It results in dry, broken strands because your hair shaft and scalp cannot properly receive water from layered products or even from the environment. When left for too long, the scalp cannot breathe, and other issues develop, like itchiness, flakiness, and even hair fall.
What is the difference between a clarifying shampoo and hair detox?
These essentially accomplish the same job of removing buildup from the hair and scalp. The way clarifying shampoos differ from most hair detox formulas is that the latter are made of strong, natural ingredients that are mixed at home. A clarifying shampoo might contain some of these ingredients but balances them in a shampoo formula, whereas a detox is more of a hair mask.
Depending on the formula, however, these can work quite well. Nevertheless, it is recommended that if you're going to make and use your detox masks regularly, that you use a clarifying shampoo at least once, first.
Is clarifying shampoo suitable for dry hair?
Dry hair needs to have buildup removed too. Otherwise, it is even more susceptible than other hair types to breakage. Yes, clarifying shampoo is typically drying, but there are a variety of formulas that have been made so that they are not too stripping. An example is the ArtNaturals Organic Moroccan Argan Oil Shampoo, which works well as a clarifying shampoo, although it is not labeled as such. The Kenra Clarifying Shampoo is great for dry hair, too. Nevertheless, if your strands are dry, do not forget to use a rich, hydrating conditioner or mask after washing – every time.
Why Trust Us
Since 2007, TotalBeauty has been committed to helping millions of people find the right makeup, skincare, and haircare products for their needs. Our experts know what works best for every face shape, skin type, hair type, and more. They are here to share that knowledge with everyone looking to upgrade their beauty routines or try something new.