5 Best Chapsticks for 2019 – Chapstick Reviews – Total Beauty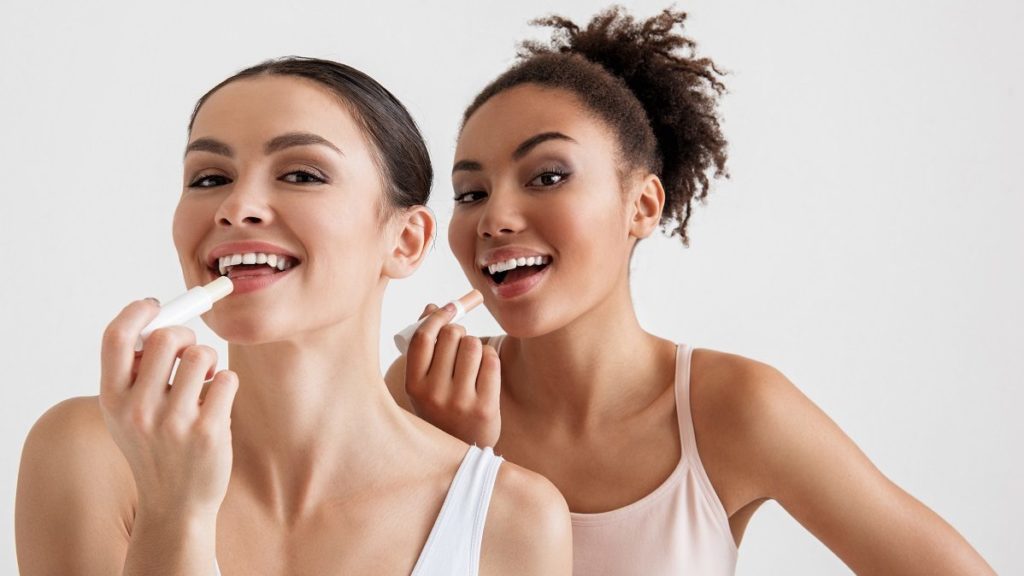 The skin on our lips is fragile and prone to flaking off or becoming dry when exposed to cold weather. Chapstick is the perfect antidote to this, as it provides a watertight barrier to help keep lips moisturized. As a result, lips feel soft and are less prone to cracking. chapstick can either be worn on its own or provide a base for lip makeup. The roll-up tube that chapstick comes in makes it convenient to use on the go, too. Here are our picks of the five best chapsticks on the market.

Best Choice
A four-pack of chapsticks, including the classic Beeswax flavor that Burt's Bees are famous for, along with Strawberry, Coconut & Pear, and Vanilla Bean flavors.
Pros:
As Burt's Bees is a popular global skincare brand, being able to also buy chapsticks from the same company is handy–especially since they are renowned for being vegan and cruelty-free. Each flavor has a subtle tint that gives the choice of adding color to the lip if you select one of the fruity flavors. The original beeswax flavor contains vitamin E to help soften lips, as well as peppermint to give a light tingle. The formula also contains no parabens, phthalates, petrolatum, or SLS.
Cons:
The beeswax flavor contains peppermint, which is refreshing; however, if used on extremely cracked lips, it might sting a little. However, the other three flavors do not contain peppermint, so you do have other options, should this be the case.
Best Organic Chapstick
The Sky Organics chapstick has six different flavors, including Luscious Tahitian Vanilla, Tropical Coconut, Eucalyptus Mint, Cherry Bomb, Tangy Citrus, and Strawberry Bliss.
Pros:
Fun and fruity chapsticks offer a wide choice of flavors that work out at just over $1 per piece. The chapsticks are infused with organic calendula, rosemary, and other natural flavors. This is great, as it means no heavy or synthetic fragrances that are commonly found in other chapsticks. The formulation also includes lip plumper to naturally enhance the lips' appearance. The chapsticks are non-toxic and are free from GMOs, gluten, petroleum, and other chemicals.
Cons:
There are no synthetic ingredients masking the scent of these organic products, which may be a little strong-smelling for some people's liking. However, the benefit is that you aren't absorbing or ingesting synthetic ingredients, either.
Best Cruelty-Free
An American favorite since 1973, the Lip Smacker Original Flavors Party Pack contains eight different flavors of chapstick.
Pros:
Despite its packaging's girlish appearance, this Lip Smacker set of chapsticks caters to the whole family. There are two plainer flavors–Oatmeal Cookie and Vanilla–which are ideal for anyone who dislikes strong scents. The other flavors are a mix of tropical and candy scents, making this set very diverse. Each chapstick is brightly colored, which makes them easy to find in your bag and looks great out on your desk.
Cons:
The formula claims to be moisturizing but doesn't state which ingredients help hydrate lips. There is no mention of vitamin E, which is pretty standard in chapsticks. The packaging also doesn't state whether it is free from synthetic ingredients or cruelty.
Best for Sensitive Lips
The Naturistick chapsticks contain eight pieces per set, comprising two of each flavor. The flavors include Peppermint, Pomegranate, Vanilla, and Green Tea.
Pros:
An ideal set for those who dislike strong flavors or garish packaging, the Naturistick chapsticks keep things plain and simple in terms of flavors and presentation. The formulation is gentle on sensitive lips and is suitable for both adults and children. The chapsticks are made with 100% certified beeswax, which helps form a protective barrier to soothe dry lips. The formula is also free from petroleum, chemicals, gluten, and parabens, and is non-GMO.
Cons:
The flavors repeat, so if you prefer variety with your chapstick flavors, this set might not seem exciting. The flavors are also quite earthy instead of fruity, so they are there to soothe rather than add a strong scent. As always, it comes down to preference as to whether this a plus or negative.
Best Price
The ChapStick Total Hydration Night Serum is an overnight treatment for lips to help combat dryness while you sleep.
Pros:
This ChapStick is in the form of a serum and has an applicator rather than a wind-up stick. Both of these factors help in delivering softness and hydration to the lips, as a serum has a thinner consistency that absorbs more easily into the skin. While the set only contains one tube per package, it delivers a higher quality of nourishing ingredients for targeted relief. The packaging is secure to help keep the product fresher for longer.
Cons:
The product costs the same for one chapstick as a typical set that contains four to eight pieces, meaning you get less for your money. However, as this product is slightly different and is in the form of a serum, the price can be justified.
What Really Matters
A Protective Barrier
The skin on our lips is thin and fragile, which makes it prone to dryness and cracking. When this happens, it can feel uncomfortable and even cause our lips to bleed. Similarly to the rest of our skin, our lips are also susceptible to the elements, especially cold weather that can break through the top layers of skin.
A chapstick helps protect the lips by creating a waterproof, waxy barrier between the skin and the elements. Some chapsticks also contain an SPF to prevent premature aging and sun damage caused by UV rays.
As chapsticks come in a variety of formulas with different ingredients, it's important to choose one that stays on well to ensure that a protective barrier is in place.
Flavor
An added bonus of chapstick is that it usually has a great flavor, too. Not only does this taste nice on the lips, but it can also add a subtle fragrance. Whether you prefer a plain flavor such as vanilla, something a little more invigorating, such as peppermint, or even a fruity flavor–there is a lot of variety when it comes to chapstick flavors.
It's always worth checking the flavors before you buy a pack, especially if it is intended to be for the whole family; everyone will have their own preference when it comes to scent.
Petroleum-Free Formula
Petroleum is an ingredient normally associated with the oil industry; however, it's routinely put into chapsticks and chapsticks; Vaseline is a famous example. While petroleum isn't strictly harmful, the problem is that it actually causes the lips to dry out. This means that chapsticks containing petroleum will require frequent reapplication and won't help to hydrate the lips long-term. Most chapsticks will state whether they have a petroleum-free formula, so this is definitely something to look out for if you suffer from chronic dryness.
What's in Right Now?
Chapsticks have undergone a recent resurgence in popularity. Many high-end brands such as Sugar have created their own chapsticks, fusing the buttery hydration they give with sumptuous lip color. The benefit is that lips are simultaneously protected and tinted for convenience.
Environmentally conscious beauty products are also becoming more favorable. It can be difficult to find in a chapstick, given that the wind-up mechanism is usually made from plastic. However, reclaimed materials and recyclable packaging are now widely available.
Prices
Cheap
Chapsticks are generally a cheap commodity, and the least expensive ones can be bought for $1 to $3. As with most things, it usually works out as better value to buy a multipack wherever possible to pick up even more savings.
Mid-Range
The average price for a chapstick is $5, which includes popular brands as well as organic varieties that use premium ingredients.
Expensive
Luxury chapsticks that contain exquisite formulas and those which double us as lipstick retail for $20 and above. However, as such products replace the need for lip liners or lipsticks, they can end up saving you money.
FAQs
How does chapstick work?
Chapstick has a waxy texture which, when applied to the lips, stays in place and locks in moisture. The ingredients also help soothe the lips, especially if the chapstick contains Vitamin E or aloe vera. Unlike a lip gloss, a chapstick has a rich and thick texture. The purpose is to create a physical barrier that can withstand wind and rain. Chapstick will stay in place for a few hours, though can easily be removed if necessary.
How often should I apply chapstick?
There's no hard and fast rule when it comes to the frequency of chapstick application. However, in colder weather, it's a good idea to apply some before heading outside and reapply it regularly. This will ensure that there is a barrier protecting your lips against cracking from the cold. To save time in the morning, it's also handy to apply chapstick after you've finished your skincare routine so that your lips are primed for your lip color of choice.
Is it safe to eat chapstick?
Nobody is suggesting that you purposely make a meal out of your chapstick. However, it makes sense to ensure it is edible, given that the product is going on your lips and will be ingested throughout the day. All chapsticks have to be tested before they go on the market to ensure that they are safe to ingest in small quantities. As some chapsticks contain synthetic ingredients, opting for a natural, organic chapstick is a safer bet. If you accidentally swallow your chapstick and you are worried, please consult a doctor for further advice.
Is a stick or tin better for lip conditioning products?
Both designs offer advantages. A chapstick is typically in a stick form and has a wind-up motion that retracts again when you are done. This is handy as you can apply it without any additional tools, and the product is kept safe from damage when you wind it back down. However, the disadvantage is that the formula of a chapstick tends to be quite waxy because it needs to hold its shape in the tube. A waxy texture is an excellent barrier but doesn't feel as hydrating on the lips as a serum or gel texture would.
A tin can have a much more fluid texture, allowing for different formulas (such as cocoa butter, aloe vera, etc.) that wouldn't work in a stick formula. However, chapsticks in tins can be difficult to evenly apply to the lips and may require a brush or cotton swab to do so. Tins are more environmentally friendly as they aren't made from plastic, and they help to keep the product fresh.
What else can I do to keep my lips soft?
A common misconception is that you can put chapstick directly on flakey, dry skin and it will heal. In reality, you should exfoliate this skin first to reveal a healthy layer underneath. To do this, use a lip scrub. You can also make your own lip scrub using brown sugar and honey. During the winter, lips can become incredibly flakey and dry, so exfoliating any dead skin before applying a chapstick is the best way to hydrate and soothe your lips. Another tip during cold weather is to place a scarf around your mouth, especially in cold wind or snowy conditions. Doing so will help prevent your lips from cracking painfully.
Why Trust Us
Since 2007, TotalBeauty has been committed to helping millions of people find the right makeup, skincare, and haircare products for their needs. Our experts know what works best for every face shape, skin type, hair type, and more. They are here to share that knowledge with everyone looking to upgrade their beauty routines or try something new.